After months of planning and fundraising, our youth were ready to strike out on their Mission Trip for 2016. Father Dave commissioned the group Sunday morning before they left Valdosta for their base of operations at Saint Mark's Episcopal Church in Palm Beach Gardens, Fl. They will be helping out with their labor (and their enthusiasm) at several projects in the area.  Youth team members are: Brooklyn Prine, Kate Hanson, Mary Peeples, Jim Chamberlain, J. D. Greneker, and Paul Johnson. They are accompanied by Molly Stevenson and Dave Johnson

Check back with this page as we add daily updates sent to us from the team.  We area also updating the Google Pictures Gallery with photos.
Monday
Tuesday
Wednesday
Thursday
Friday
---
Monday Update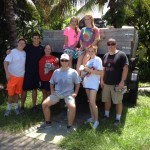 The team took out for  Riviera Beach, FL this morning for work in and around St. George's parish.  They worked with some mentally challenged youth who are in a special program there.  The team also cleaned up a home in preparation for repairs that will be done for a deserving resident.  You can find pictures in a new Facebook Album or in the new album on Google Pictures.
Go to Tuesday or return to Top
---
Tuesday Update
This morning the team gutted an old building that will be renovated for ministry purposes by New Bethel Missionary Baptist Church in West Palm Beach. From the looks of the pictures, they did it with attitude.
In the afternoon, they sorted donations that were made to the Homeless Coalition of Palm Beach County.
---
Wednesday Update
The team started out the day working with the Caring Caring Kitchen in Delray Beach.  They prepared around 220 meals.  After lunch, the group returned to the St George Community Center to provide more program for underprivileged youth.
---
Thursday Update
Today our team spent the entire day with Seagull Services, a center for adults with developmental disabilities in Riviera Beach. The center provides employment, residences, a charter school and other programs. Due to regulations, the number of pictures that could be taken were limited.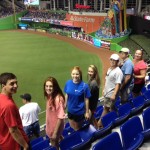 After a lot of work, time for some fun. Our mission team went to Marlin Park for a ballgame with the Cubs. The Marlins won the game and there were winners in the stands. Well, mostly winners in the right field stands as Molly Stevenson was pulling for the Cubbies. Game recap here
Tomorrow the team goes to Key West for some more fun. Careful kids, don't fall off the continental US!
---
Friday Update
A Fun day of sight seeing in Key West.  The team pauses to pose at two of the most famous land marks in town. To bad they're too young to have a drink at Hemingway's favorite local watering hole.
return to the Top