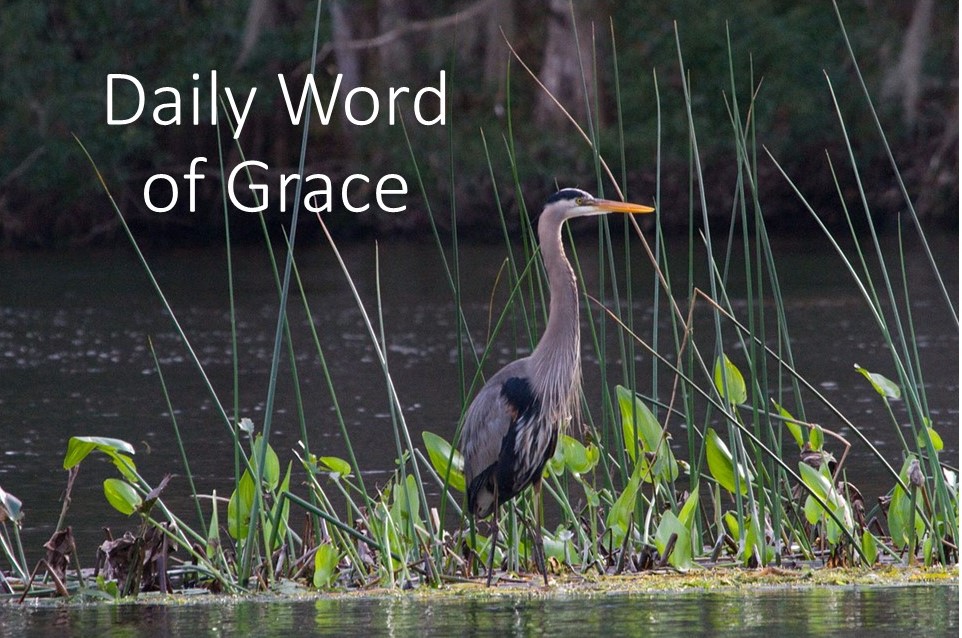 Daily Word of Grace # 11: March 31, 2020
One of my favorite preachers is the brilliant and anointed T. D. Jakes.  Many years ago I was watching him preach and he said something I have never forgotten, "If you live long enough, at some point life will shut your mouth."  It really hit home for me because I was in a very rough season in many ways, a season in which life had shut my mouth.  This is not always a bad thing.  Honestly I have much more often regretted saying something I should not have said ("If I were you.." or "In my opinion…" or "I know you're not asking my advice, but…")  than not saying something I should have said (like "Thank you" or "I'm sorry" or "I love you").  This is the last day of what for many people has been a month when life has shut their mouth.  This is exactly what happened with King David, the greatest king in Israel's history, after he was confronted by Nathan the prophet about his sins.  In the wake of this David wrote Psalm 51, which opens, "Have mercy on me, O God, according to your loving-kindness; in your great compassion blot out my offenses."  God answered that prayer not only for David, but also for you, when out of loving kindness and great compassion God had mercy on the entire world on Good Friday.  Life even shut Jesus' mouth as he remained silent before his accusers and yet still went on to blot out all our offenses by dying in our place.  Late in Psalm 51 we read how David would respond later, and how we can respond now, "Open my lips, O Lord, and my mouth shall proclaim your praise."
Love and Prayers,
Dave
Daily Word of Grace #10: March 30, 2020
On a rainy October afternoon in 1977 my dad took me to see the first Star Wars film: Star Wars: Episode IV-A New Hope, and I'll never forget that.  And yes, I can remember vividly seeing each of the subsequent eight films in this series-which theater and with what friends or family.  These films have resonated with so many people for so many years for many reasons, one of which is that a recurring theme is hope, from Episode IV: A New Hope all the way through.  In the 2017 film from this franchise, Star Wars: Episode VIII-The Last Jedi, Vice Admiral Holdo (played by Laura Dern) quotes one of Princess Leia's favorite sayings, "Hope is like the sun-if you only believe in it when you see it, you'll never make it through the night."  (Yes, like most metaphors this one has holes in it, and it is pretty hokey too, but bear with me because Star Wars is awesome).  The gospel of God's love is good news of hope during this collective "night"-"We also boast in our sufferings, knowing that suffering produces endurance, and endurance produces character, and character produces hope, and hope does not disappoint us, because God's love has been poured into our hearts through the Holy Spirit that has been given to us" (Romans 5:3-5).  God freely gives us this hope-specifically, "the hope laid up for you in heaven"-in Jesus Christ; moreover, "you have heard of this hope before in the word of the truth, the gospel, that has come to you" (Colossian 1:5).  Today may God stir up in your heart anew (and a new) hope in Jesus Christ.
Love and Prayers,
Dave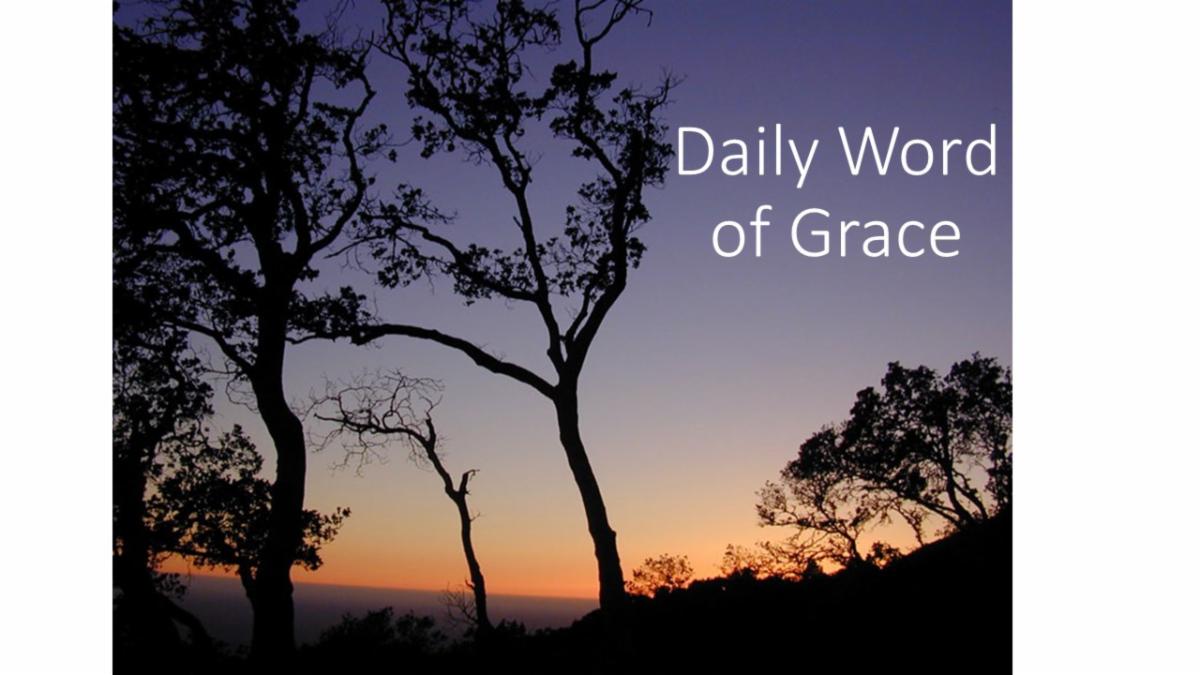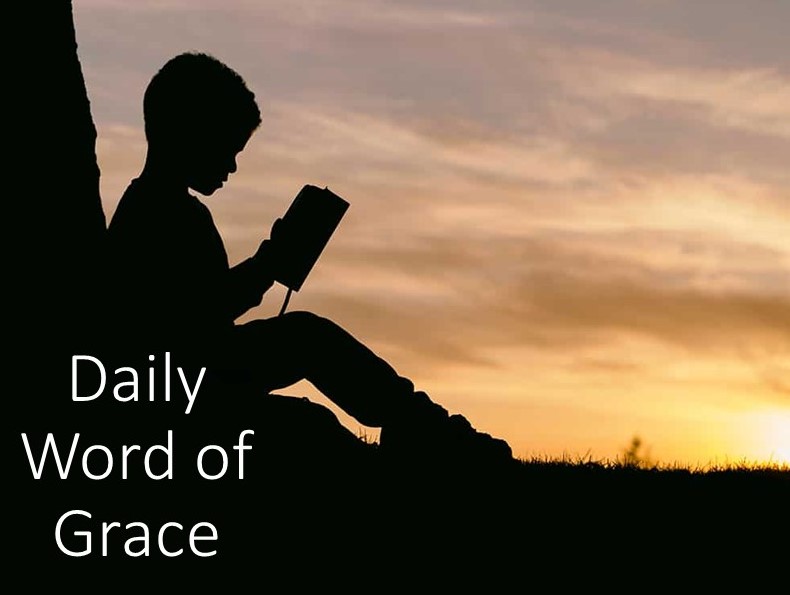 Daily Word of Grace #9: March 27, 2020
Psalm 46 is a powerful psalm that connects exactly with where we are today as we all find ourselves coping with a situation none of us saw coming, as we all continue to navigate uncharted territory, because Psalm 46 is all about dependence upon God.  It opens, "God is our refuge and strength, a very present help in trouble.  Therefore we will not fear, though the earth should change, though the mountains shake in the heart of the sea" (46:1-2).  Why not fear in this time of pandemic and its multileveled fallout?  A few verses later the psalmist answers, "The Lord of hosts is with us; the God of Jacob is our refuge" (46:7).  And then still later God speaks through the psalmist and shows us what it looks like to trust in God to be our "very present help in trouble," what it looks like to become more aware of the reality that "the Lord of hosts is with us"-"Be still, and know that I am God" (46:10).  In other words, even if for just a few moments, turn off your phone, turn off your TV, turn off your other devices and be still in the presence of your Creator and Redeemer, be still in the presence of your Refuge and Strength, be still in the presence of the One who knows you better than you know yourself and loves you more than you could ever imagine, be still in the presence of the One who is indeed your "very present help in trouble."  Sometimes dependence upon yourself falls short (let's be honest, more than sometimes), but dependence upon God never falls short.  God will see you through-always has, always will.
Love and Prayers,
Dave
Daily Word of Grace #8: March 26, 2020
The moving 2017 film Wonder portrays the true story of Auggie Pullman, a young boy suffering from Treacher Collins Syndrome, which means his facial bones never formed properly.  In spite of enduring many surgeries Auggie's face remains disfigured, and out of embarrassment he wears his astronaut helmet as much as possible-having grown weary of the ridicule.  Auggie perseveres through a very long tough school year, and along the way "loses" his helmet.  At the end of the film as his Auggie's loving father, Nate, confesses that he had hidden Auggie's helmet-and then tells him why, "Please don't be mad, you gotta understand, you were wearing it all the time.  I never got to see you anymore.  I missed your face.  I know you don't always like it, but I love it.  It's my son's face, and I want to see it."  After Nate hugs Auggie he gazes proudly into his beloved son's face.
When it comes to your relationship with God, you can take the astronaut helmet off.  Your Heavenly Father, who loves you infinitely more than Nate loved Auggie, loves your face and wants to see it.  Scripture tells us that in Jesus Christ "all the fullness of God was pleased to dwell, and through him God was pleased to reconcile to himself all things, whether in earth or in heaven, by making peace through the blood of the his cross" (Colossians 1:19-20).  This happened on Good Friday, when Jesus' sacred face was punched and spit on and ridiculed, streams of blood and tears running down it-and yet it was in that hour that God revealed his glory in showing mercy to the world, including you.  And even now, God is the One "who has shone in our hearts to give the light of the knowledge of the glory of God in the face of Jesus Christ" (2 Corinthians 4:6).
Love and Prayers,
Dave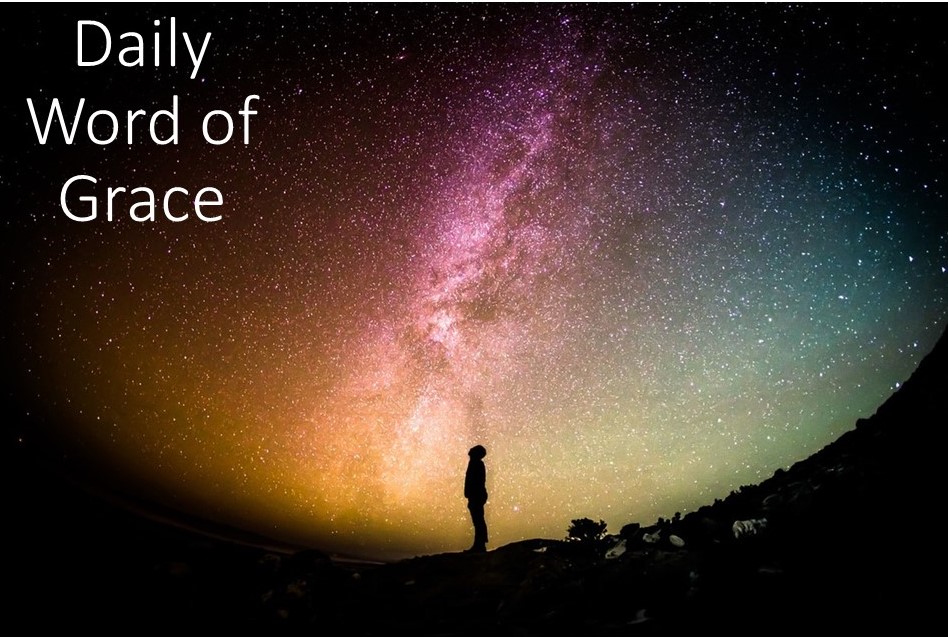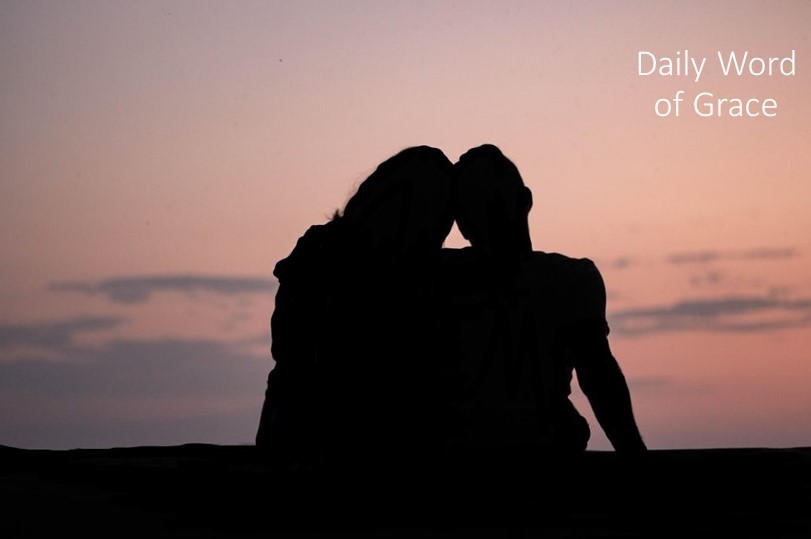 Daily Word of Grace # 7: March 25, 2020
One of my favorite rock artists ever is the late great Tom Petty, whom I had the privilege of once seeing live in an Atlanta concert with a few of my kids and my awesome friend Mike Tanner.  The second track on his 2006 album Highway Companion is a gem called "Square One"-a gentle, comforting song about starting over, about hitting the reset button in your life.  In the chorus Petty sings,
Square one, my slate is clear,
Rest your head on me, my dear
It took a world of trouble, took a world of tears
It took a long time to get back here
In this time of stress in our current "world of trouble" and "world of tears" the gospel of God's forgiving love remains the same.  The great Old Testament prophet Isaiah connects this forgiving love of God directly with your life-"Though your sins are like scarlet, they shall be like snow; though they are red like crimson, they shall become like wool" (Isaiah 1:18).  This is possible because Jesus Christ is "the Lamb of God who takes away the sin of the world" (John 1:29).  On Good Friday, as he took up his cross Jesus also took your world of trouble and world of tears upon himself, and then shed his scarlet blood to turn your sins white as snow, shed his crimson blood to turn your sins white as wool-"for our sake he made him to be sin who knew no sin, so that in him we might become the righteousness of God" (2 Corinthians 5:21).  This brings you back to square one and means your slate is clear.  This also means that today, right now, God's words to you are, "rest your head on me, my dear."
Love and Prayers,
Dave
Daily Word of Grace #6: March 24, 2020
Several years ago I had the privilege of visiting the home of William Shakespeare in England. As you know, in addition to writing classic plays he also wrote many sonnets, brief and beautiful love poems, including Sonnet 116:
Let me not to the marriage of true minds
Admit impediments, love is not love
Which alters when it alteration finds,
Or bends with the remover to remove.
O no! it is an ever fixed mark,
That looks on tempests and is never shaken;
It is the star to every wand'ring bark,
Whose worth's unknown, although his height be taken.
Love's not Time's fool, though rosy lips and cheeks
Within his bending sickle's compass come,
Love alters not with his brief hours and weeks,
But bears it out even to the edge of doom:
If this be error and upon me proved,
I never writ, nor no man ever loved.
This is what true love looks like. It is not fickle, but faithful; not but cowardly, but courageous; not ephemeral but everlasting. Above all, true love is unchanging-"love is not love which alters when it alteration finds." All of this describes God's true love for you. Scripture assures us, "Every generous act of giving, with every perfect gift, is from above, coming down from the Father of lights, with whom there is no variation or shadow doe to change" (James 1:17). While people's love for you may fall short and prove fickle, cowardly and ephemeral, God's love for you remains faithful, courageous, and everlasting. Jesus demonstrated this definitively on Good Friday when he walked "even to the edge of doom", all the way to Calvary, where he gave his life for you-the most "generous act of giving" and "perfect gift" ever-on the cross, "the ever fixed mark" of God's unchanging love for you. In these ever-changing times may God comfort you anew with his never-changing love.
Love and Prayers,
Dave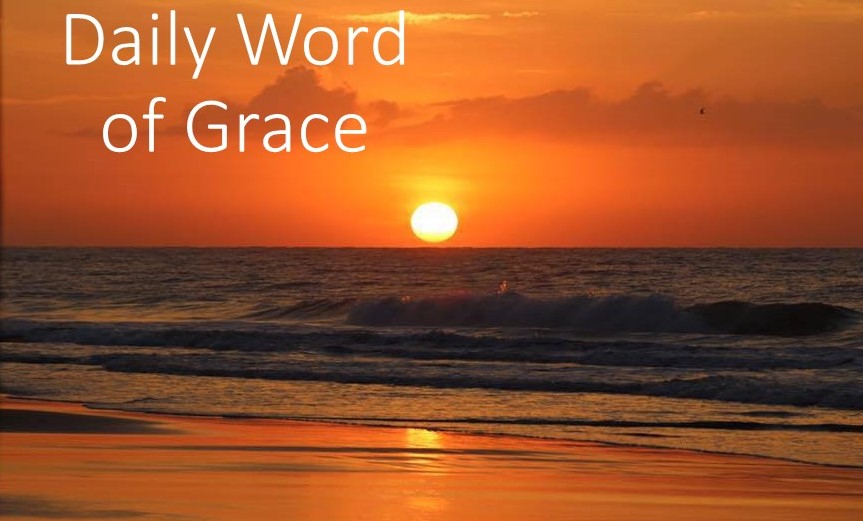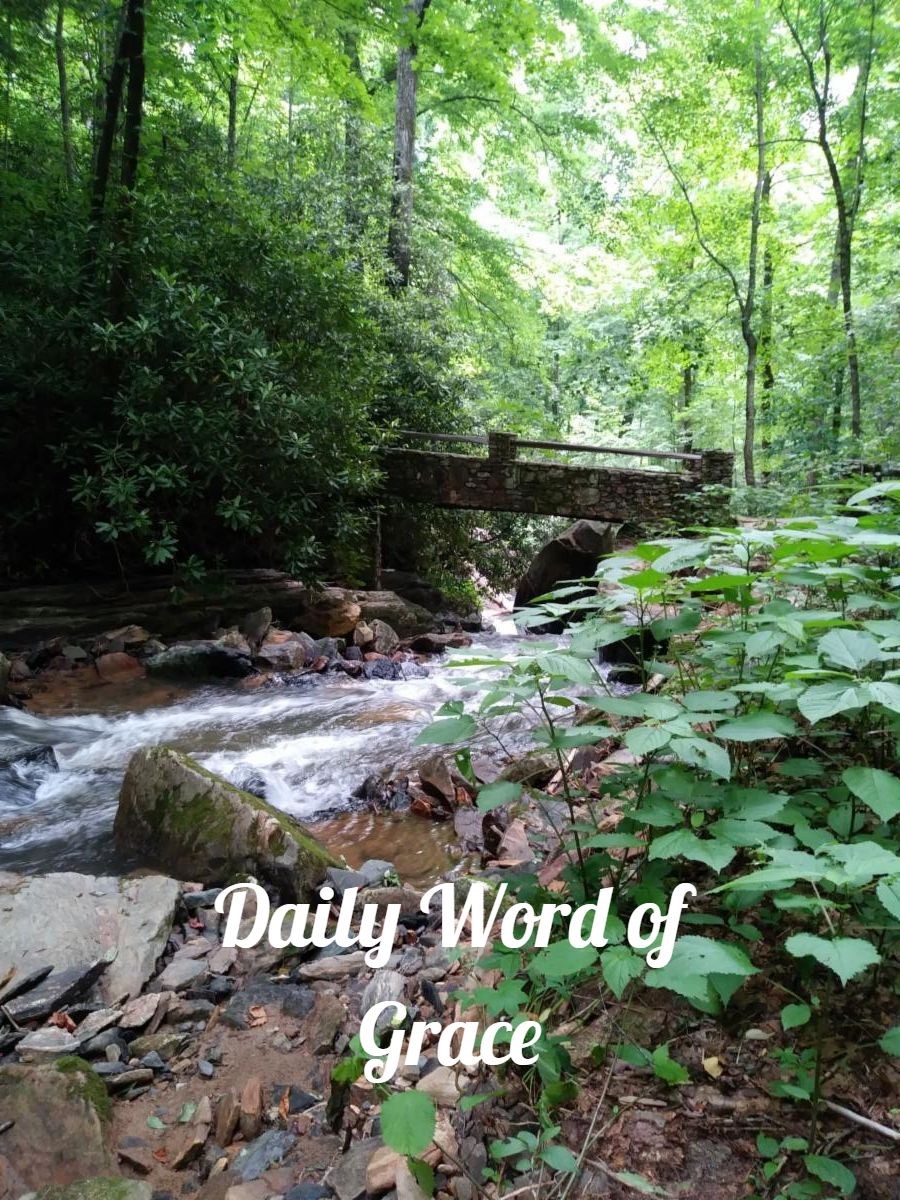 Daily Word of Grace #5: March 23, 2020
Fifty years ago Simon and Garfunkel released their fifth and final studio album, Bridge over Troubled Water, one of my all-time favorites. The title (and opening) track is soaked with gospel, especially for those overwhelmed by challenging times-"I'm on your side when times get rough and friends just can't be found…like a bridge over troubled water I will lay me down." God is on your side-always has been and always will be-"If God is for us, who is against us?" (Romans 8:31). In this season when times have gotten rough on so many levels, and with social distancing it can feel like "friends just can't be found", Jesus remains the Friend of Sinners (Matthew 11:19), Jesus is still present, and Jesus is still on your side. At the Last Supper Jesus said, "No one has greater love than this, to lay down one's life for one's friends" (John 15:13), and the next day he did just that. When times could not have gotten any rougher for Jesus and his friends just could not be found, Jesus still laid down his life on the cross for you because he loves you that much. And even now Jesus remains on your side, and the cross remains your bridge over troubled water.
Love and Prayers,
Dave
Daily Word of Grace: March 20, 2020
On his 1990 album The End of the Innocence Don Henley sings the following in the moving song called "The Heart of the Matter:" "I've been trying to get down to the heart of the matter, but everything changes and my friends seem to scatter, but I think it's about forgiveness, forgiveness." Not only is Don Henley the iconic drummer of the even more iconic band the Eagles, and an accomplished solo artist as well, he is also a brilliant theologian because when it comes to the Christian faith, forgiveness is indeed the heart of the matter. Paul put it this way, "I handed on to you as of first importance what I in turn had received: that Christ died for our sins in accordance with the scriptures" (1 Corinthians 15:3). Forgiveness was the heart of the matter in Jesus' earthly ministry as he assured a paralytic who had not even asked for forgiveness, "Son, your sins are forgiven" (Mark 2:5) because apparently the paralytic's being assured God had forgiven him was even more important than being able to walk (although as you know, Jesus took care of that too). Moreover, after Jesus was nailed to the cross, his final prayer for you and me and all of us was, "Father, forgive them; for they do not know what they are doing" (Luke 23:34). God the Father answered that prayer, and still does-not just corporately but individually, including you. This is especially good news when everything changes and your friends seem to scatter. And how does God call us to respond? "Forgive each other; just as the Lord has forgiven you" (Colossians 3:13-please notice the verb tenses in this verse). What is true in our relationship with God is often true with our relationship with others (and with ourselves)-forgiveness is indeed the heart of the matter.
Love and Prayers,
Dave
Daily Word of Grace: March 19, 2020
In the gripping 2005 film Batman Begins, the first of the Dark Knight Trilogy, Bruce Wayne (Christian Bale) is completing his training with the League of Shadows. All he has to do is execute a felon guilty of capital offenses in order to demonstrate his "commitment to justice." But Bruce Wayne would not do it. When Bruce is warned, "Your compassion is a weakness your enemies will not share", he replies, "That's why it's so important; it separates us from them." Scripture assures us that compassion is one of the primary attributes of Jesus: "When Jesus saw the crowds, he had compassion on them, because they were harassed and helpless, like sheep without a shepherd" (Matthew 9:36). This compassion of Jesus for all of us sheep "harassed and helpless" by a myriad of challenges indeed separated him from his enemies, which unfortunately also included all of us (Romans 5:10). And yet this compassion motivated Jesus throughout his earthly ministry, and this compassion motivated his suffering and death on Good Friday when he demonstrated his "commitment to justice" by taking the judgment of all the harassed and helpless sheep of the world, taking the judgment of all his enemies who refused the "weakness" of his compassion-including you and me-upon himself. After his resurrection Jesus was still moved with compassion-just ask Peter. And even now his compassion remains unchanged. Jesus is still moved with compassion for you-all the time, no matter what.
Love and Prayers for you,
Dave
Daily Word of Grace: March 18, 2020
In the critically acclaimed (for real) television sitcom The Office Steve Carrell played Michael Scott, the hilarious and neurotic regional manager in the Dunder Mifflin Paper Company. One of his best lines ever was this gem, "I want people to be afraid of how much they love me" (10 second link). In this time of fear we need to be reminded that scripture assures us, "God is love" (1 John 4:4)-not, "God is fear." As we see every day right now, fear can and does lead to many things-blame, anger, selfishness, prejudice, etc.-but fear never leads to love. On the other hand, check out what love does to fear: "There is no fear in love, but perfect love casts out fear"-and this kind of casting-out-fear love of God for a fearful world was expressed by Jesus for all of us on the cross: "We love because he first loved us" (1 John 4:18-19). As you already know, at the Last Supper Jesus identified love as the sole litmus test of being a Christian-"By this everyone will know that you are my disciples, if you have love for one another" (John 13:35)–and then the very next day showed us what that kind of love looks like. In response we are called to treat others with that kind of love-not blame or anger or selfishness or prejudice-but love.
Love and Prayers for you,
Dave
Daily Word of Grace: March 17, 2020
In the 1989 cinematic masterpiece Bill and Ted's Excellent Adventure, which for some reason received exactly zero Oscar nominations, Ted (Keanu Reeves) comments, "Strange things are afoot at the Circle K…" (see this 4-second link). That is certainly the case right now with the Coronavirus and its many ramifications. When unplanned and unexpected events like this occur, when "strange things are afoot at the Circle K", we need extra grace from God. Scripture is clear that God opposes the proud and gives grace to the humble-see Proverbs 3:34 and James 4:6-and also this gem from the First Letter of Peter:
All of you must clothe yourselves with humility in your dealings with one another, for "God opposes the proud, but gives grace to the humble." Humble yourselves therefore under the mighty hand of God, so that he may exalt you in due time. Cast all your anxiety on him because he cares for you (1 Peter 5:5-7).
I wish it were not the case but I have learned the hard way in my own life that if we do not humble ourselves before God, God will do the favor for us because God is determined to give us grace. This was the case with the Israelites in the wilderness (see Deuteronomy 8:2), it was the case in Peter's own life, and it is the case with us today. And yet both individually and corporately if we humble ourselves before God and ask for grace to navigate this challenging season, God will honor that. This points directly to the heart of the gospel, when on Good Friday Jesus humbled himself on our behalf (Philippians 2:5-8) and died on the cross in order to give grace to a world in desperate need of it, a world still desperately in need of it. Humility leads to grace, and as we have all sung many times, "'tis grace that brought me safe thus far, and grace will lead me home."
You remain in my heart and prayers.
Peace,
Dave