Daily Word of Grace # 164 (October 30, 2020)
In December 1990 The Judds (Naomi and daughter Wynonna) released a gorgeous country song about the most important thing in the world: love (what else could it be?). In "Love Can Build a Bridge" they sing: "I'd gladly walk across the desert with no shoes upon my feet to share with you the last bite of bread I had to eat. I would swim out to save you in your sea of broken dreams. When all your hopes are sinkin' let me show you what love means. Love can build a bridge between your heart and mine. Love can build a bridge. Don't you think it's time? Don't you think it's time?" When it comes to reconciled relationships bridges are always, always more helpful than walls. In order to reconcile all of us to God Jesus did not just cross a desert to us to give us his last bite of bread, he crossed the universe to us to give himself as the Bread of Life for the world, including you (John 6:48-51). Jesus' death in our place has reconciled us to God and remains the ultimate demonstration of "what love means" (Romans 5:8-11). The love of God built a bridge with the cross, a bridge that can never be destroyed so that no matter what, God's love remains a bridge between God's heart and yours. If you feel like you need to turn back to God in some way, that bridge is there at this very moment…"don't you think it's time? Don't you think it's time?"
Love and Prayers,
Dave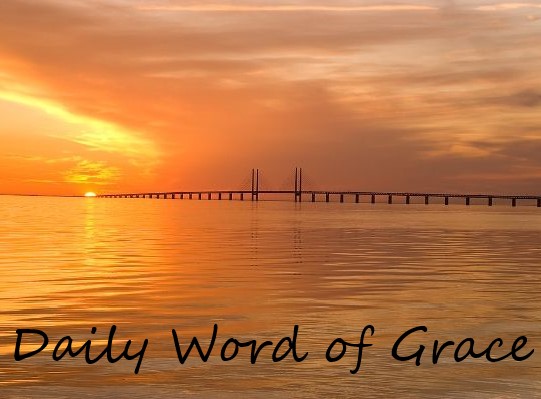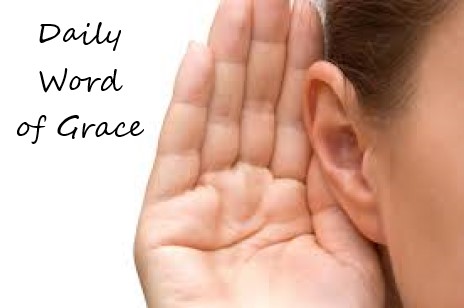 Daily Word of Grace # 163 (October 29, 2020)
One of the greatest gifts we can give one another is the gift of listening. Think about it. Who do you turn to when you really need help? Who are your closest friends? Who in your family do you confide in more than anyone else? Who are the people in your life you really respect? Chances are, all of them are good listeners. When you are really listened to, you feel really cared for, really understood—and yes, really loved. Listening can be difficult sometimes because most of us are distracted and trying to keep up with too many things—and most of us have bought into the myth that multitasking is somehow good for you (it's not). You have probably experienced the difference between someone pretending to listen to you (which hurts) versus someone actually listening to you (which heals). I would estimate that nearly 80% of pastoral ministry involves really listening to people, rather than talking to them. And this is true not just in pastoral ministry but in life in general. Every relationship, every interaction, every important decision is all greatly improved by listening. Jesus was (and is) a consummate listener. Just ask the woman at the well (John 4) or the blind man he healed (John 9) or the thief who was crucified next to him (Luke 23:39-43)—Jesus listened, really listened, to all of them. Moreover, this means each and every prayer (intentional or otherwise) is effective (James 5:16) because the Risen Jesus listens—really listens—to you.
Love and Prayers,
Dave
Daily Word of Grace # 162 (October 28, 2020)
One of the best, if not THE best, books about God's grace is Grace in Practice (2007) by Paul Zahl. He describes grace this way: "Grace is love that seeks you out when you have nothing to give in return. Grace is love coming at you that has nothing to do with you. Grace is being loved when you are unlovable. It is being loved when you are the opposite of lovable…Grace is a love that has nothing to do with you, the beloved. It has everything and only to do with the lover. Grace is irrational in the sense that it has nothing to do with weights and measures…It reflects a decision on the part of the giver, the one who loves, in relation to the receiver, the one who is loved, that negates any qualifications the receiver may personally hold…Grace is one-way love" (36). Such grace from God, such one-way love from God is the heart of the gospel. It is not merely a part of the gospel, or an aspect of the gospel, or a nuance of the gospel, or an ancillary benefit of the gospel, it is the gospel itself. It is only through God's grace that you have salvation (Ephesians 2:8) and the hope of everlasting life (John 3:16). In fact, God's grace is greater than everything in your life—greater than your successes and failures, greater than your healthy relationships and strained relationships, greater than your strengths and weaknesses…and yes, even greater than your death. God's grace—God's "one-way love"—is why the gospel is such good news, and always will be.
Love and Prayers,
Dave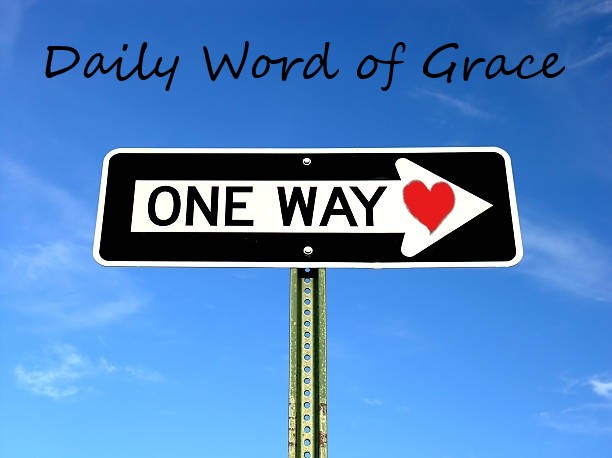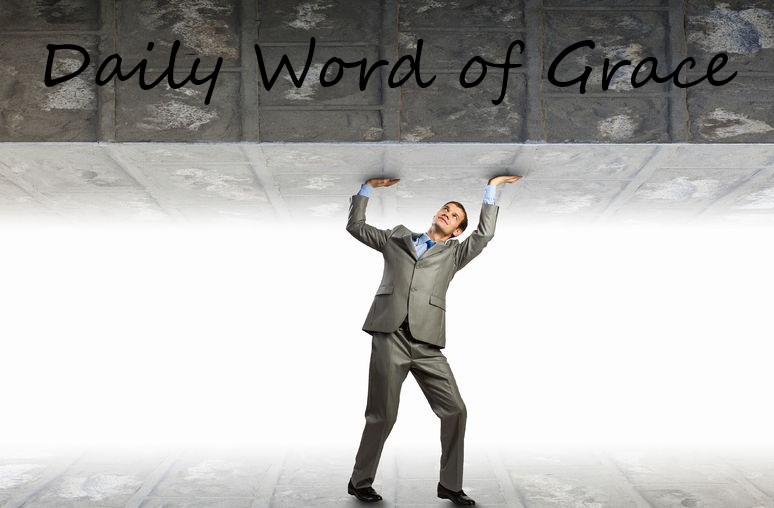 Daily Word of Grace # 161 (October 27, 2020)
The term "grace under pressure" denotes someone who not only remains calm under pressure, but also remains kind—even to those who may be causing the pressure in the first place. In the business world "grace under pressure" can refer to CEO's facing a massive drop in the stock market who will still look out for the good of everyone involved, or owners of a small business dealing with the very real fallout due to COVID 19 who will still put people's safety first. In sports "grace under pressure" can refer to quarterbacks who remain calm and kind in the huddle when the offensive line is not providing any protection and the receivers are dropping every pass—or to baseball pitchers who remain calm and kind in the dugout when they have a losing record even though their ERA (Earned Run Average) is incredibly low because their team scores no runs. Closer to home, "grace under pressure" can refer to parents whose children's behavior has them at their wit's end (or vice versa) and yet remain calm and kind with them (at least sometimes). On Good Friday Jesus demonstrated "grace under pressure" toward the whole world, including you. Although he was really scared, really mistreated, and really killed—Jesus remained calm and kind even to those who nailed him to the cross, even praying for their forgiveness (Luke 23:34). And even now the Risen Jesus still offers you grace, especially in the areas in which you are under the most pressure—grace which in turn may enable you to exhibit "grace under pressure" toward others.
Love and Prayers,
Dave
Daily Word of Grace # 160 (October 26, 2020)
One of my favorite songs from the 90's is by singer-songwriter Shawn Mullins—a Georgia native: a song of hope called "Lullaby." As a youth minister driving vanloads of teenagers on overnight trips, I was always asked to crank up the volume for this song. It is about a daughter of unnamed Hollywood celebrities. In spite of her wealth she feels alone, disillusioned and disconnected: "She grew up with the children of the stars in the Hollywood hills and the boulevards. Her parents threw big parties. Everyone was there. They hung out with folks like Dennis Hopper and Bob Seger and Sonny and Cher…She still lives with her mom outside the city down that street about a half a mile. And all her friends tell her she's so pretty, but she'd be a whole lot prettier if she smiled once in a while. 'Cause even her smile looks like a frown. She's seen her share of devils in this angel town." And yet the chorus is a simple, to-the-point comforting lullaby: "And just before she hangs her head to cry, I sing to her a lullaby: Everything's gonna be all right. Rock-a-bye, rock-a-bye. Everything's gonna be all right." That's the gospel. In spite of whatever it may be that has you, like the girl in the song—alone, disillusioned and disconnected, whose "smile looks like a frown"—God's grace is still greater than all that. God will work everything out for your good (Romans 8:28) so that indeed, in the end, "everything's gonna be alright."
Love and Prayers,
Dave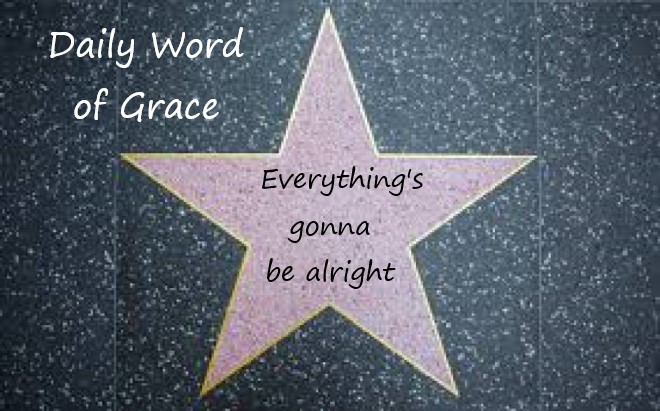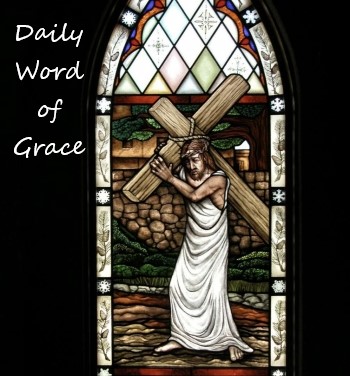 Daily Word of Grace # 159 (October 23, 2020)
One of my favorite movies from the 60's is Easy Rider (1969), the classic counterculture film about the two friends Wyatt and Billy (played by Peter Fonda and Dennis Hopper respectively) who take a journey on their motorcycles from California across the Southwest and into the Deep South "in search of America." One of the many memorable scenes involves a montage of their riding across the desert, with the gorgeous song by The Band, "The Weight" playing. "The Weight" is the biggest hit The Band ever had, a gem from their 1968 album Music from Big Pink: "I pulled into Nazareth, was feelin' about half past dead. I just need some place where I can lay my head. Hey, mister, can you tell me where a man might find a bed? He just grinned and shook my hand. "No" was all he said." Who cannot relate to that? Then comes the gospel chorus: "Take a load off, Fanny. Take a load for free. Take a load off, Fanny, and you put the load right on me." Our Savior Jesus Christ, who actually grew up in Nazareth, has a gracious invitation for all those on their journey "in search for America" (or anything else) and looking for a place to lay their head: "Come to me, all you that are weary and are carrying heavy burdens, and I will give you rest. Take my yoke upon you, and learn from me; for I am gentle and humble in heart, and you will find rest for your souls. For my yoke is easy, and my burden is light" (Matthew 11:28-30). In other words, Jesus' invitation to you echoes what The Band sings: "Take a load off, (your name). Take a load for free. Take a load off, (your name), and you put the load right on me."
Love and Prayers,
Dave
Daily Word of Grace # 158 (October 22, 2020)
One of the most celebrated American writers of the nineteenth century was the troubled genius Edgar Allan Poe (1809–1849). In addition to his picturesque and unsettling short stories like "The Pit and the Pendulum" and "The Masque of the Red Death" (which has eerie connotations with today), Poe was known for his poems, most famously "The Raven" (which is why the NFL franchise in Baltimore, where Poe is buried, is named the Ravens). In his poem "Lenore" he describes the grief over the death of a beautiful young woman of that name—"Ah broken is the golden bowl! The spirit flown forever…For her, the fair and debonair, that now so lowly lies, the life upon her yellow hair but not within her eyes–the life still there, upon her hair–the death upon her eyes." And yet, this poem unexpectedly concludes with hope: "Avaunt! to-night my heart is light. No dirge will I upraise, but waft the angel on her flight with a Pæan of old days! Let no bell toll!–lest her sweet soul, amid its hallowed mirth, should catch the note, as it doth float up from the damnéd Earth. To friends above, from fiends below, the indignant ghost is riven–from Hell unto a high estate far up within the Heaven–from grief and groan, to a golden throne, beside the King of Heaven." The hope of eternal life to which Poe alludes here—for Lenore, and for you—is based on the death and resurrection of Jesus Christ (1 Corinthians 15:21-22), "the King of kings and Lord of lords" (Revelation 19:16)—and also yes, as Poe wrote, "the King of Heaven."
Love and Prayers,
Dave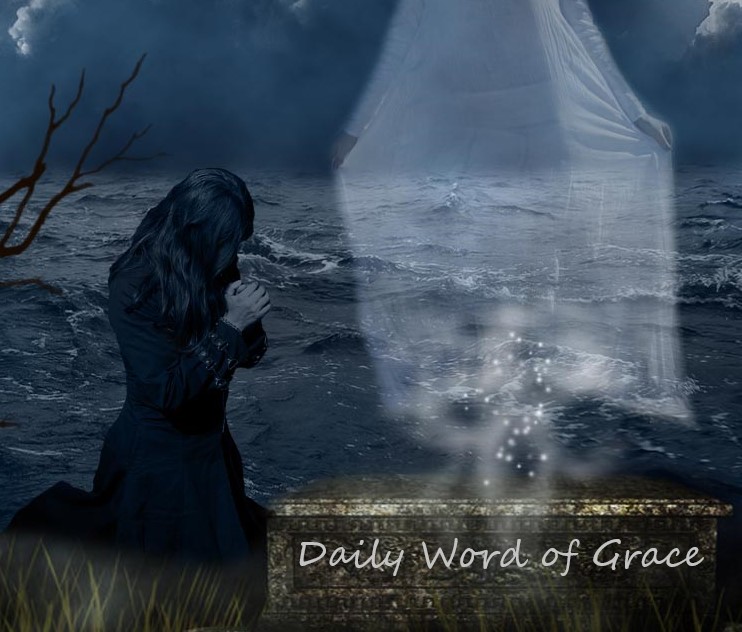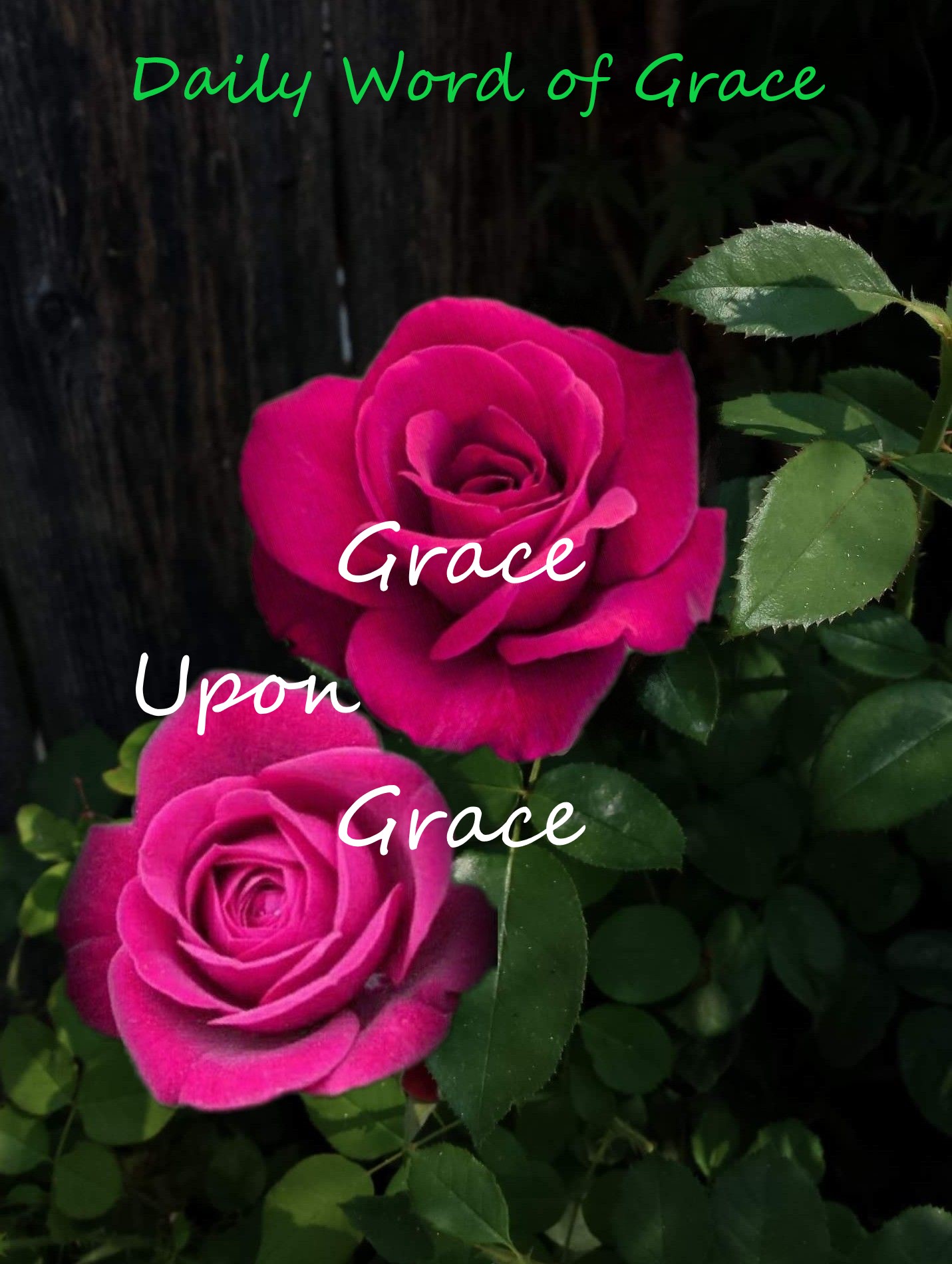 Daily Word of Grace # 157 (October 21, 2020)
One of the litmus tests of whether a relationship in your life is law-based or grace-based is how you write a text or email to that person. When you text or email them, do you make sure to proofread and double check to make sure there are no grammatical or spelling errors, make sure you are phrasing things a certain way so that they cannot be misinterpreted, make sure you use the right emoji or combination of emojis? Or are your texts or emails to that person more free-flowing and from the heart, without worry about grammar or spelling or emoji correctness? The first applies to law-based relationships and the second to grace-based relationships. Regardless of whether the human relationships in your life are law-based or grace-based, thankfully when it comes to God, your relationship is always grace-based. In Jesus Christ we have all received "grace upon grace" (John 1:16)—and it is solely by the grace of God that we have been saved (Ephesians 2:8). This is why the Apostle Paul was so focused on grace, as indicated by the fact that each and every one of his thirteen New Testament letters include his proclaiming grace to the recipients both near the beginning and end of each letter (no exceptions)—i.e., "Grace to you and peace from God our Father and the Lord Jesus Christ…The grace of the Lord Jesus Christ be with your spirit" (Philippians 1:2 and 4:23). Your prayers to God can therefore be free flowing and from your heart.
Love and Prayers,
Dave
Daily Word of Grace # 156 (October 20, 2020)
Recently one of the greatest guitarists ever, the legendary Eddie Van Halen, died. Like many others my age, his music was a big part of my life, especially from elementary school through college. From the landmark "Eruption" seguing into "You Really Got Me" on their eponymous 1978 debut album, through 1984—an album everyone I knew in high school loved ("go ahead and jump!") and 5150 ("Love Walks In" was a perfect slow dance song). When I was a twenty year old college student driving around with my future wife Steph, we played their 1988 power ballad "When It's Love" over and over again on the cassette player in my old Ford station wagon. The lyrics say it all: "Everybody's looking for something, something to fill in the holes. We think a lot but don't talk much about it 'til things get out of control. Oh, how do I know when it's love? I can't tell you but it lasts forever. How does it feel when it's love? It's just something you feel together. When it's love it'll last forever." During this time in which indeed "everybody's looking for something" and things are getting increasingly out of control, we all need love more than ever. When it comes to God, how do we know when it's love? Scripture tells us, "God proves his love for us in that while we still were sinners Christ died for us" (Romans 5:8). Moreover, God's love "never ends" (1 Corinthians 13:8). With God, "when it's love it'll last forever."
Love and Prayers,
Dave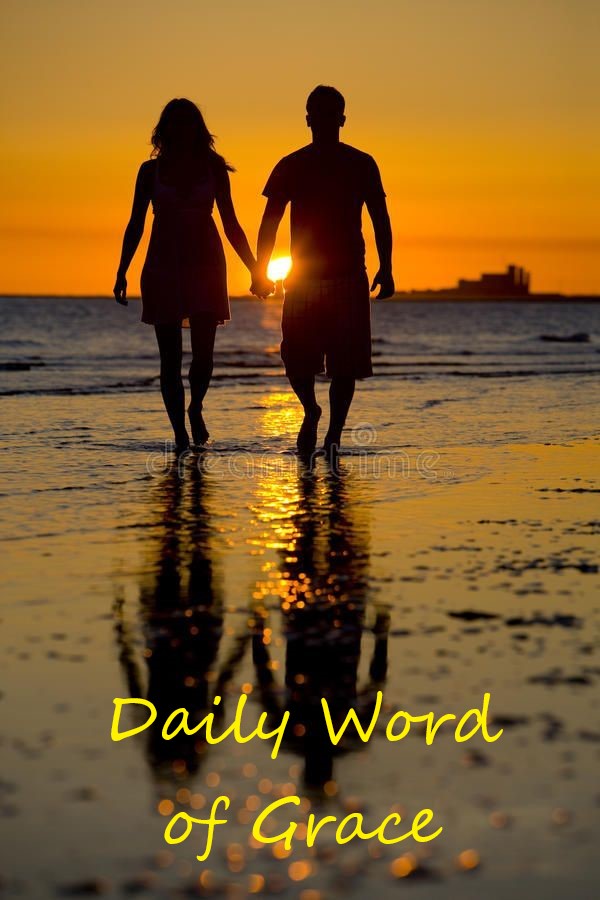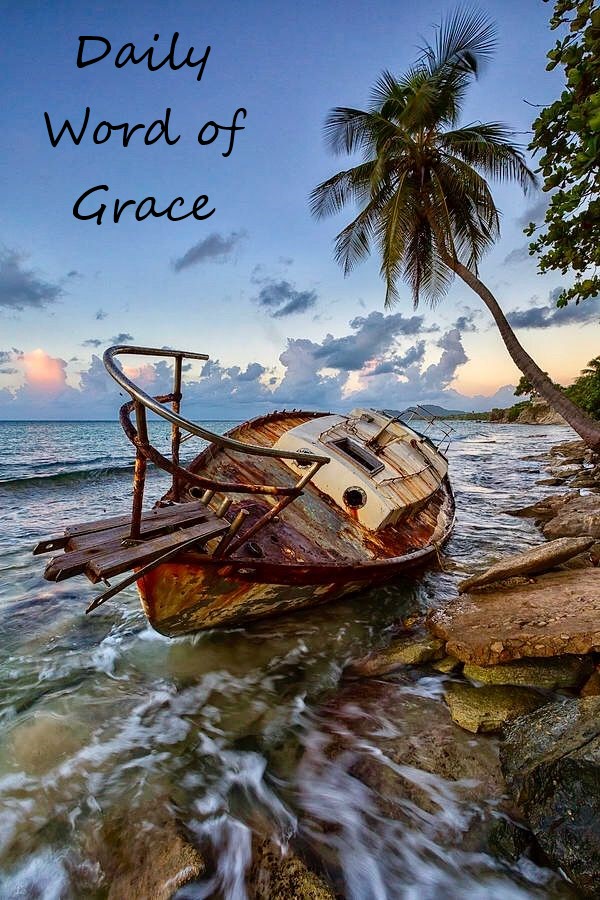 Daily Word of Grace # 155 (October 19, 2020)
Since middle school I have enjoyed the novels of H. G. Wells (1866-1946), often referred to as the father of science fiction. In addition to his classic novels The Time Machine (1895), The Invisible Man (1897), and The War of the Worlds (1898) he also wrote a gruesome dystopian novel called The Island of Dr. Moreau (1896). In this novel Edward Prendick is shipwrecked and ends up on an isolated tropical island on which the mad scientist Dr. Moreau uses vivisection to create humanlike hybrid beings, the Beast Folk. It is a bleak story in which Dr. Moreau dies and the Beast Folk revert to increasingly animal-like behavior. At the end of the story a lifeboat with two corpses washes ashore, and Prendick jettisons the corpses and rows out to sea where he is rescued by a ship three days later. Once home, he is no longer comfortable around other human beings and utterly disillusioned about the idea of human progress. And yet, when he looks to the heavens his hope is restored, "There is—though I do not how there is or why there is—a sense of infinite peace and protection in the glittering hosts of heaven. There it must be, I think, in the vast and eternal laws of matter, and not in the daily cares and sins and troubles of men, that whatever is more than animal within us must find its solace and its hope." Similarly, the psalmist wrote, "The heavens are telling the glory of God; and the firmament proclaims his handiwork" (Psalm 19:1). And it is Jesus Christ, through whom the worlds were created (John 1:3) who gives us hope, "a sure and steadfast anchor of the soul" (Hebrews 6:19).
Love and Prayers,
Dave
Daily Word of Grace # 154 (October 16, 2020)
In his insightful and poignant 1979 book The Wounded Healer the late Catholic priest and scholar Henri Nouwen describes the power of compassion: "Compassion is born when we discover in the center of our own existence not only that God is God and man is man, but also that our neighbor is really our fellow man.  Through compassion it is possible to recognize that the craving for love that men feel resides also in our own hearts, that the cruelty that the world knows all too well is also rooted in our own impulses…For a compassionate man nothing human is alien: no joy and no sorrow, no way of living and no way of dying" (41).  Scripture assures us that Jesus' life and ministry were rooted in and motivated by compassion: "When he saw the crowds, he had compassion for them, because they were harassed and helpless, like sheep without a shepherd" (Matthew 9:36).  This compassion moved Jesus so much that he died on the cross to atone for "the cruelty that the world knows all too well" (and that you also know all too well).  And when the Risen Jesus sees you he is still moved with compassion.  There is indeed  "no joy and no sorrow, no way of living and no way of dying" beyond Jesus' the scope of Jesus' compassion.  Jesus knows the specific ways you may be "harassed and helpless" in your life, as well as the "craving for love" that resides in you.  Nothing in your life is beyond the compassion of Jesus.
Love and Prayers,
Dave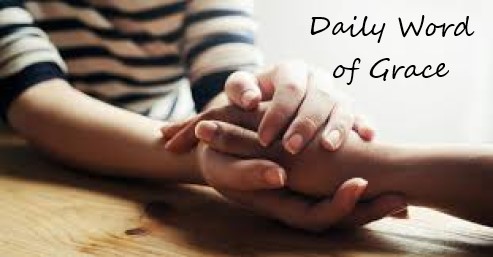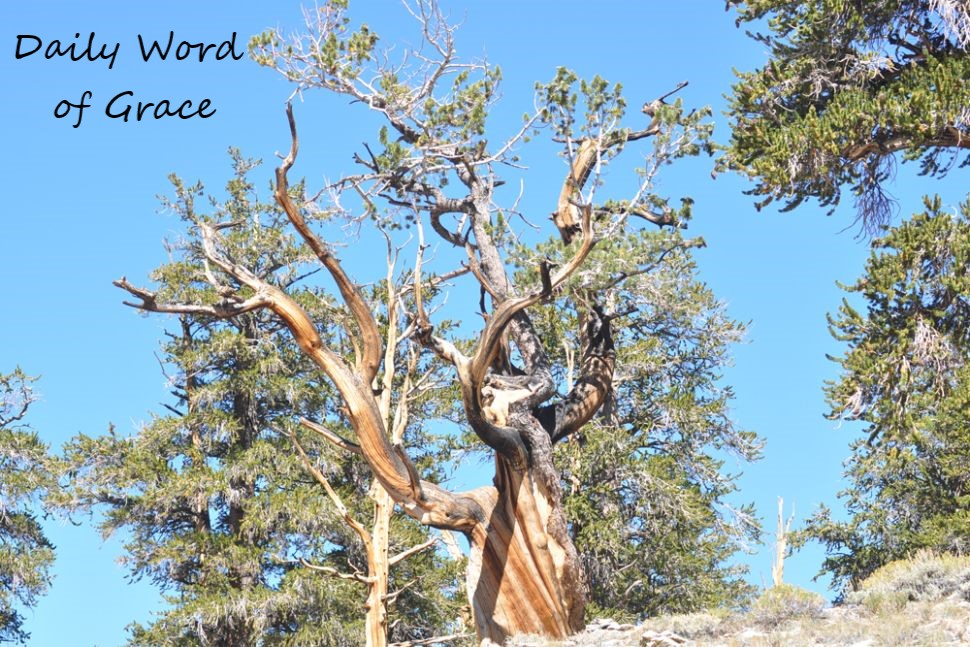 Daily Word of Grace # 153 (October 15, 2020)
Several summers ago my daughter Emily and I drove across the desserts of Utah, crossed into Nevada and visited the often overlooked Great Basin National Park.  This beautiful park includes some of the oldest living trees on the planet, the Bristlecone Pine (pinus longeava), some of which are nearly an astounding 5,000 years old.  Ironically, Bristlecone Pines struggle to survive in climates and conditions in which many trees flourish, and instead thrive in harsh climates with very little soil and even less rainfall.  Seeing these Bristlecone Pines in person in a grove near the summit of Wheeler Peak was awesome, especially realizing that they have been there since before the incarnation of Our Savior.  The grace of God, demonstrated historically and definitively in the death of Jesus Christ on a different tree, the cross—like the Bristlecone Pine—can thrive in the harshest and most forbidding climates and circumstances in our lives.  Even if these harsh and forbidding climates and circumstances are due to our own poor choices or sin, God's grace can still thrive in those specific places, because as Paul wrote, "where sin increased, grace abounded all the more" (Romans 5:20).  Not only that, God's grace lasts infinitely longer than even Bristlecone Pines—very good news regardless of the climates or circumstances of your life.
Love and Prayers,
Dave
Daily Word of Grace # 152 (October 14, 2020)
On a crisp fall day when I was in fifth grade a couple friends of mine and I made plans to build a fort in the woods in our neighborhood.  We dragged pieces of plywood along with remnants of shingles and carpet from the scrap pile of a local construction site, procured lots of nails from our dads' tool boxes, and went to work.  By the end of the week we had constructed our fort, complete with shingled roof, carpeted dirt floor, and holes cut in the walls for windows.  There was one hazard though—the nails we used for the shingles protruded through the roof, so we made a rule that you had to wear a football helmet in our fort to avoid impaling your head (safety first).  A couple weeks later there was a particularly violent storm that levelled our fort, which made us sad for a moment but we had already moved on to building bike ramps so we got over it.  At the end of his Sermon on the Mount, Jesus compares those who hear and obey his words to those who build their house, or fort, on a rock, and compares those who ignore his words to being like those who build on sand.  Each builder experienced a violent storm, but only the house on the foundation of rock withstood it (Matthew 7:24-27).  Each of us will undergo many storms in our lives, but the foundation of Jesus Christ, "the Rock of our salvation" (Psalm 89:26) will always see us through, no football helmet required.
Love and Prayers,
Dave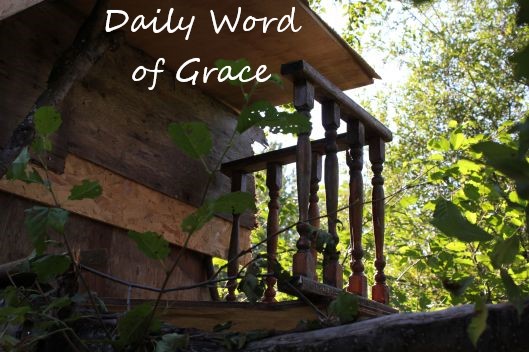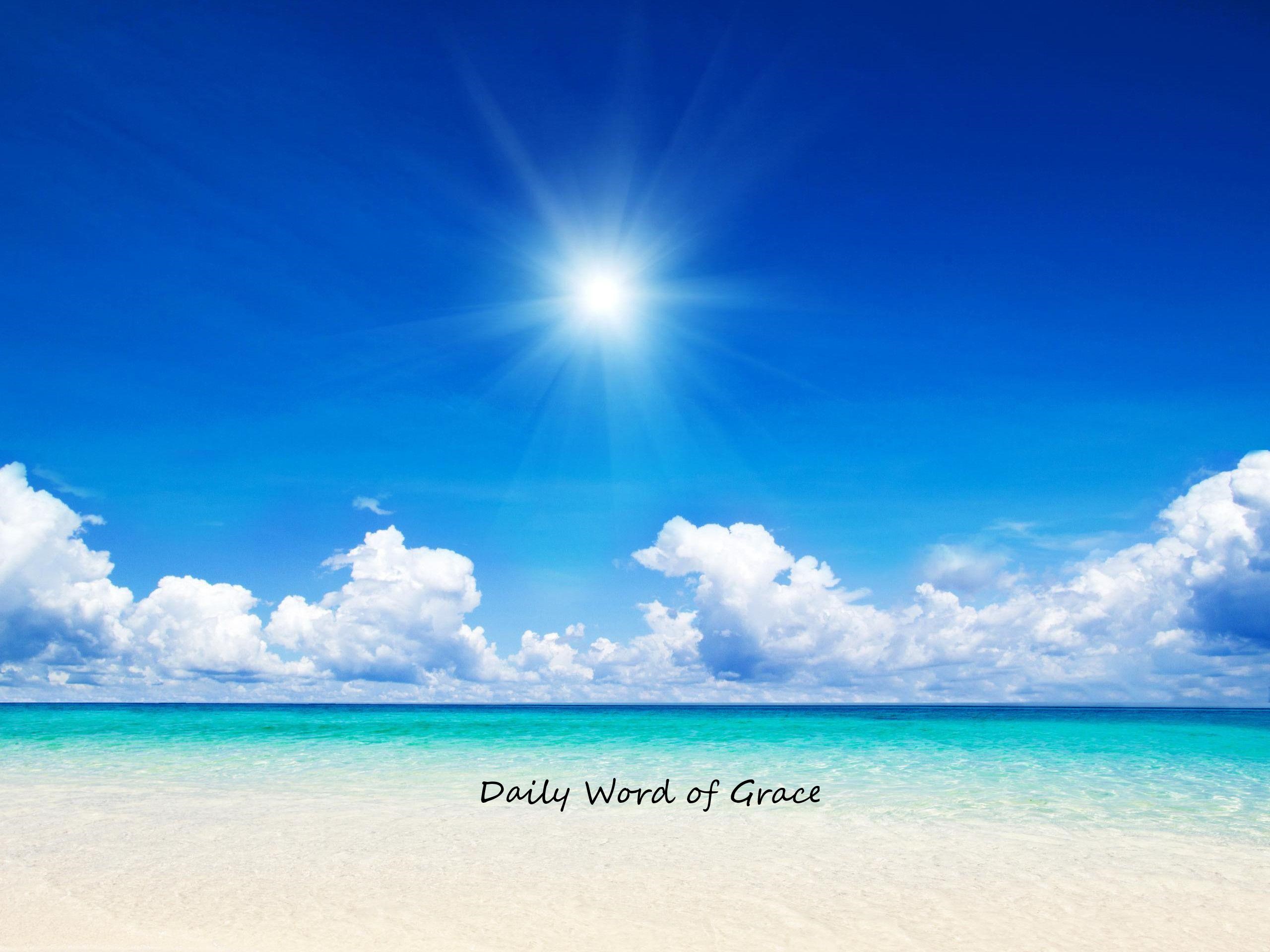 Daily Word of Grace # 151 (October 13, 2020)
Recently the gifted singer Johnny Nash died.  His biggest hit was the 1970 pick-me-up classic Jimmy Cliff song "I Can See Clearly Now", one of the most uplifting songs you will ever hear: "I can see clearly now the rain is gone.  I can see all obstacles in my way.  Gone are the dark clouds that had me blind.  It's gonna be a bright, bright sunshiny day…Oh, yes I can make it now the pain is gone.  All of the bad feelings have disappeared.  Here is that rainbow I've been praying for.  It's gonna be a bright, bright sunshiny day…Look straight ahead, there's nothing but blue skies.  I can see clearly now the rain is gone."  This song overflows with hope, especially for those enveloped in dark clouds that have them blind and bumping into obstacles they cannot see, for those mired in bad feelings, for those for their pain to be gone, for those praying for a rainbow to appear and blue skies to return.  Instead of looking down, or looking at the clouds and darkness all around, "look straight ahead" because off in the distance there is nothing but blue skies.  Along these lines in the Letter to the Hebrews we read, "Let us lay aside every weight and the sin that clings so closely, and let us run with perseverance the race that is set before us, looking to Jesus the pioneer and perfecter of our faith" (Hebrews 12:1-2).  Jesus is not only with you right now, but has cleared every obstacle in your way, and in time will bring you to "a bright, bright sunshiny day."
Love and Prayers,
Dave
Daily Word of Grace # 150 (October 12, 2020)
In his 1986 book Lion and Lamb: The Relentless Tenderness of Jesus the late Brennan Manning wrote, "God loves you as you are and not as you should be!  Do you believe this?  That God loves you beyond worthiness and unworthiness, beyond fidelity and infidelity, that He loves you in the morning sun and the evening rain, that He loves you without caution, regret, boundary, limit, or breaking point?  I am not asking: Do you believe in love?  That is abstract ideology…What I am asking is: can you say with conviction what the apostle John writes in his first letter: 'I have come to know and believe in the love God has for me.'  The last four words—God has for me—turn an abstract proposition into a personal relationship" (20).  John indeed writes, "So we have known and believe the love that God has for us" (1 John 4:16)—and what is true corporately is true individually, that God loves you personally more than you can ever imagine, loves you "as you are and not as you should be."  While the love of people for you may ebb and flow—or cease altogether—the love of God for you remains constant, for "the steadfast of the Lord never ceases, his mercies never come to an end; they are new every morning" (Lamentations 3:22-23).  Every new day begins with new love and new mercy from God toward you.
Love and Prayers,
Dave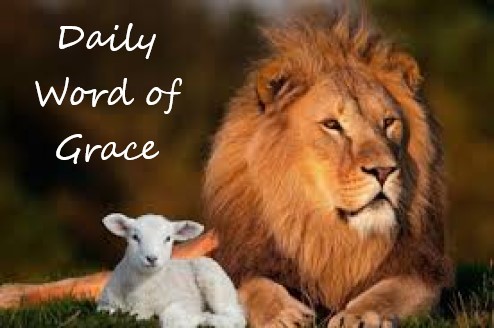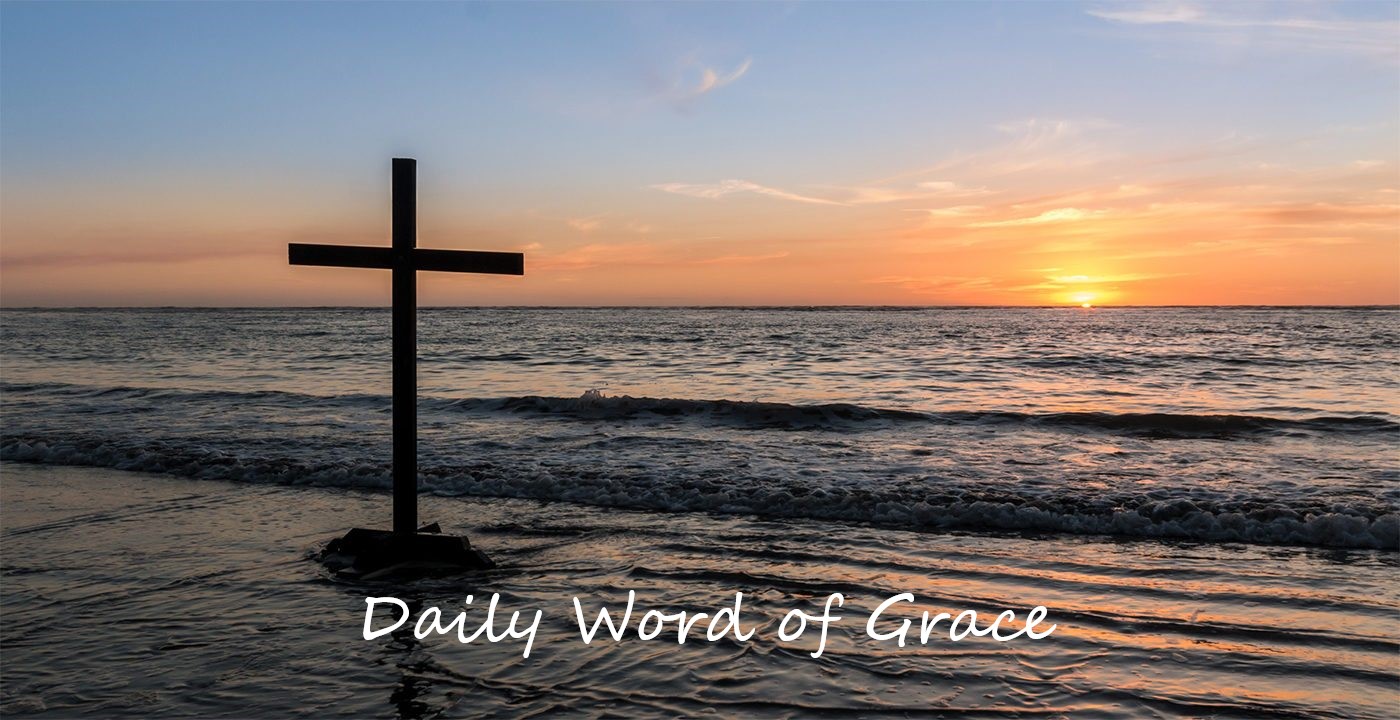 Daily Word of Grace # 149 (October 9, 2020)
Arguably the greatest and most prolific theologian of the twentieth century was Karl Barth (1886 – 1968).  The Swiss theologian worked on his magnum opus, Church Dogmatics, over the course of thirty-five years (1932 – 1967) and it totals over six million words.  And yet on April 23, 1962 at Rockefeller Chapel at the University of Chicago, he was asked by a student if he could summarize his theology, summarize the massive Church Dogmatics, in one sentence.  Karl Barth replied, "In the words of a song I learned at my mother's knee, 'Jesus loves me, this I know, for the Bible tells me so.'"  There it is, the heart of the gospel.  Specifically the Bible tells us so in many places, including "For God so loved the world that he gave his only Son, so that everyone who believes in him may not perish but may have eternal life" (John 3:16), "God proves his love for us in that while we still were sinners Christ died for us" (Romans 5:8), "We know love by this, that (Jesus) laid down his life for us" (1 John 3:16), and many others.  Yes, Christian theology is a so vast that even the over six million words of Karl Barth's Church Dogmatics cannot exhaust it, and yet the heart of the gospel still remains the love of God in Jesus Christ for all of us, including you.     
Love and Prayers,
Dave
Daily Word of Grace # 148 (October 8, 2020)
In the back of The Book of Common Prayer there is a succinct treasure trove of theology called the "Articles of Religion" (or the "Thirty-nine Articles"), a distillation of the theology of the English Reformation in which the focus is the grace of God in Jesus Christ.  One of the most powerful of these articles is Article XXXI ""Of the one Oblation of Christ finished upon the Cross" which states, "The Offering of Christ once made is that perfect redemption, propitiation, and satisfaction, for all the sins of the whole world, both original and actual; and there is none other satisfaction for sin, but that alone" (BCP 874).  That is a powerful statement about the sufficiency of Christ's death on the cross to atone for all our sins, both our natural tendency to sin (original sin) and the sins we commit in our lives (actual sin).  This sounds too good to be true, but it is true because it is the gospel.  Peter put it this way, "For Christ also suffered for sins once for all, the righteous for the unrighteous, in order to bring you to God" (1 Peter 3:18), and similarly John identified Jesus's death as "the atoning sacrifice for our sins, and not for ours only but also for the sins of the whole world" (1 John 2:2).  There is nothing you need do or could do to supplement what Jesus has already done for you to atone for your sins.  Jesus' "once made" sacrifice on the cross is already more than enough.
Love and Prayers,
Dave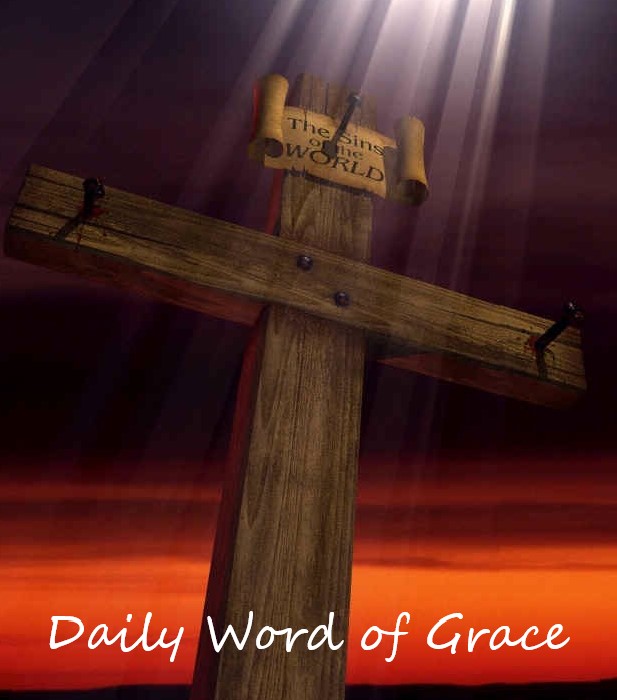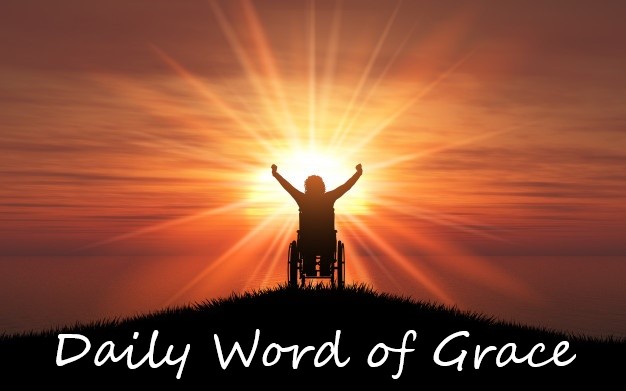 Daily Word of Grace # 147 (October 7, 2020)
One of the funniest and most famous episodes of the classic television comedy The Office begins with Michael Scott—regional manager of the Dunder Mifflin paper company branch in Scranton, Pennsylvania— hitting fellow employee Meredith Palmer with his car.  Meredith goes to the hospital for her fractured pelvis and as a precaution gets a rabies shot because she had been recently bitten by several animals.  This inspires Michael to plan a charity 5K "Fun Run" in order to raise money to fight rabies and try to "make up" for hitting Meredith with his car.  The title of this event is "Michael Scott's Dunder Mifflin Scranton Meredith Palmer Memorial Celebrity Rabies Awareness Pro-Am Fun Run Race for the Cure"  (Try saying that five times fast).  Due to a combination of "carbo loading" immediately before the race, and not hydrating before or during the race, afterwards Michael goes to the hospital for dehydration.  Meredith wheels into Michael's room, knowing everything he had done, and forgives him.  It is tempting in our own lives to try to "make up" for our sins against God, perhaps with efforts as crazy as Michael's 5K race, but it is futile, as the psalmist wrote, "If you, O Lord, should mark iniquities, Lord, who could stand?"  Thankfully, the psalmist continues, "But there is forgiveness with you" (Psalm 130:3-4).  Our efforts to "make up" for our sins may even metaphorically land us in the hospital like Michael, but like Meredith, God wheels into our room and fully forgives us.     
Love and Prayers,
Dave
Daily Word of Grace # 146 (October 6, 2020)
One of the biggest hits from one of my favorite albums from the 90's, the brilliant 1995 (What's the Story) Morning Glory by Oasis, is "Don't Look Back in Anger", a song about not getting stuck in anger due to one's past.  Noel Gallagher sings, "Slip inside the eye of your mind, don't you know you might find a better place to play.  You said that you'd never been but all the things that you've seen slowly fade away… And so Sally can wait, she knows it's too late as w''re walking on by.  Her soul slides away but don't look back in anger I heard you say."  It is easy to get stuck in the past, mired in anger about what could have been or would have been or should have been—which always causes our soul, like Sally's in the song, to slide away.  But in scripture we are exhorted to move forward and focus on the grace of God in Jesus Christ, rather than anger about the past: "This one thing I do: forgetting what lies behind and straining forward to what lies ahead, I press on toward the goal for the prize of the heavenly call of God in Christ Jesus" (Philippians 3:13-14).  The grace of God can transform our looking back in anger to looking back with gratitude, and looking ahead with hope to the One who loves us so much he thought we were worth dying for.
Love and Prayers,
Dave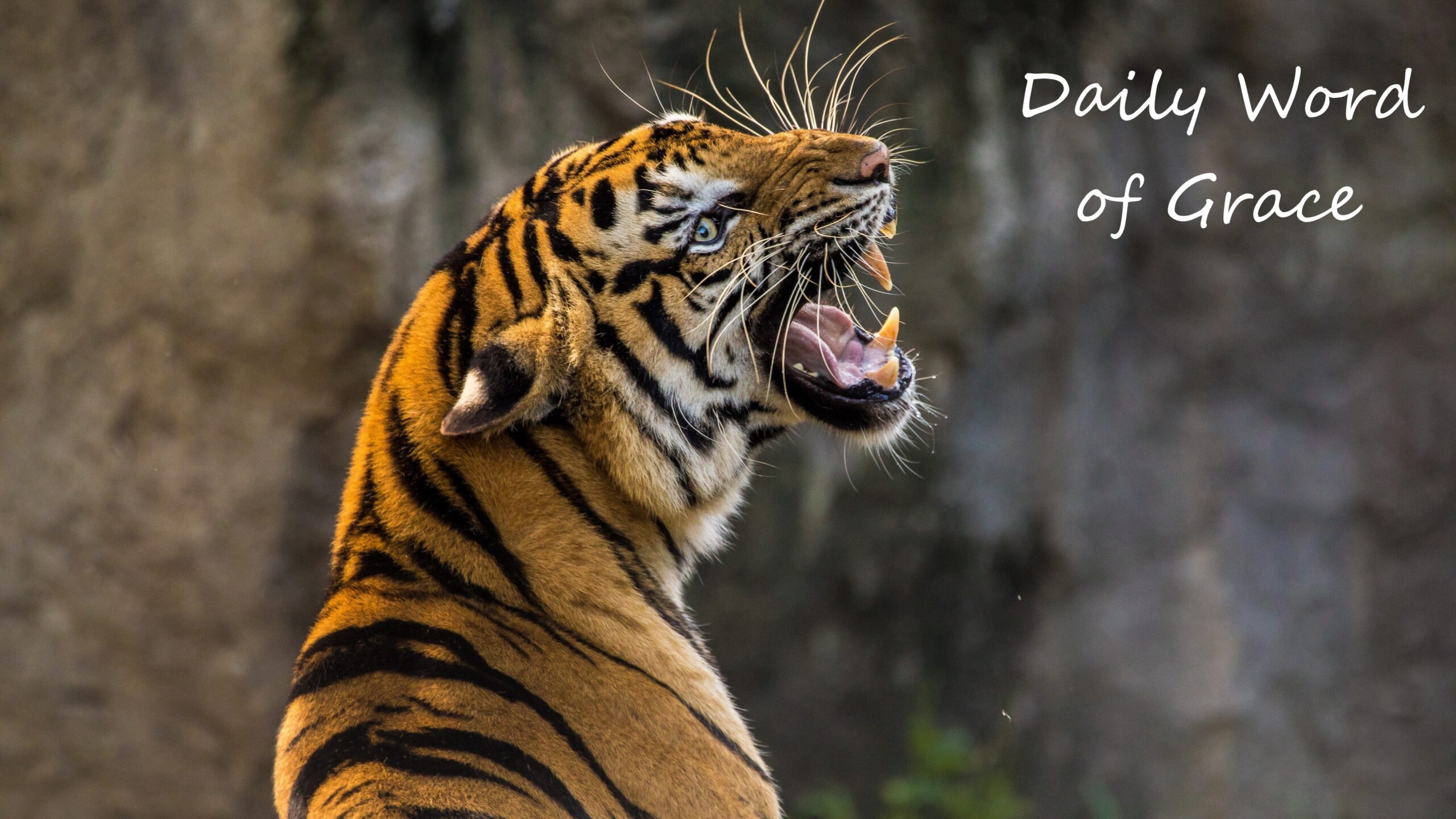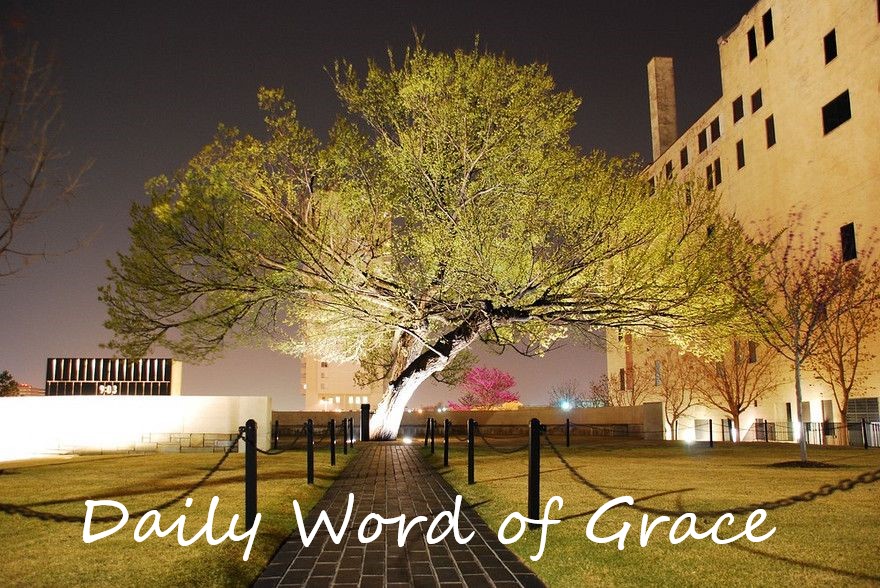 Daily Word of Grace # 145 (October 5, 2020)
On a sunny humid summer day in 2002 I had the opportunity to visit the Survivor Tree at the Oklahoma City National Memorial, site of the tragic 1995 Oklahoma City bombing during which 168 people, including 19 children, lost their lives.  The Survivor Tree is an American Elm tree that has become a symbol of hope and resilience.  During the bombing it had most of its branches blown off, was filled with shards of glass and other debris from the explosion, and even caught fire.  Then during the ensuing investigation it was nearly cut down in order to recover every possible piece of evidence about the bombing.  And yet this tree miraculously survived, and today is a vibrant, healthy, beautiful tree.  This Survivor Tree is not only a sign of hope and resilience in times of crisis and tragedy, it is also points to another, eternal Survivor Tree, the cross.  On the cross Jesus did not survive, but rather died in our place in order to allow us to survive the deadly consequences of our sin because on the cross Jesus was cursed in our place—"Christ redeemed us from the curse of the law by becoming a curse for us—for it is written, 'Cursed is everyone who hangs on a tree'" (Galatians 3:13)—so that we would not only survive, but also be blessed by God.  The cross remains the ultimate Survivor Tree, a source of hope and resilience for all of us.
Love and Prayers,
Dave
Daily Word of Grace # 144 (October 2, 2020)
In Orlando, Florida on March 4, 2000 my wife Steph and I attended the first of what would be many concerts of Bruce Springsteen and the E Street Band.  It was one of the best nights of our lives—cathartic, exhilarating, unforgettable.  The final song they played that night was essentially a gospel song, "Land of Hopes and Dreams" in which the Boss sings, "Grab your ticket and your suitcase, thunder's rolling down the tracks.  You don't know where you're goin' now but you know you won't be back.  Darlin' if you're weary lay your head upon my chest.  We'll take what we can carry and we'll leave the rest…I will provide for you and I'll stand by your side.  You'll need a good companion for this part of the ride.  Leave behind your sorrows.  Let this day be the last.  Tomorrow there'll be sunshine and all this darkness past.  Big wheels roll through fields where sunlight streams.  Meet me in a land of hope and dreams."  Who is invited aboard this train bound for "a land of hopes and dreams"?  Everyone: "This train carries saints and sinners.  This train carries losers and winners.  This train carries whores and gamblers.  This train carries lost souls.  I said, this train carries broken-hearted.  This train thieves and sweet souls departed.  This train carries fools and kings.  This train, all aboard."  And the Conductor of this train is none other than "God our Savior, who desires everyone to be saved and to come to the knowledge of the truth" (1 Timothy 2:3-4).  When it comes to the love and grace of God, Springsteen is right, "This train, all aboard."
Love and Prayers,
Dave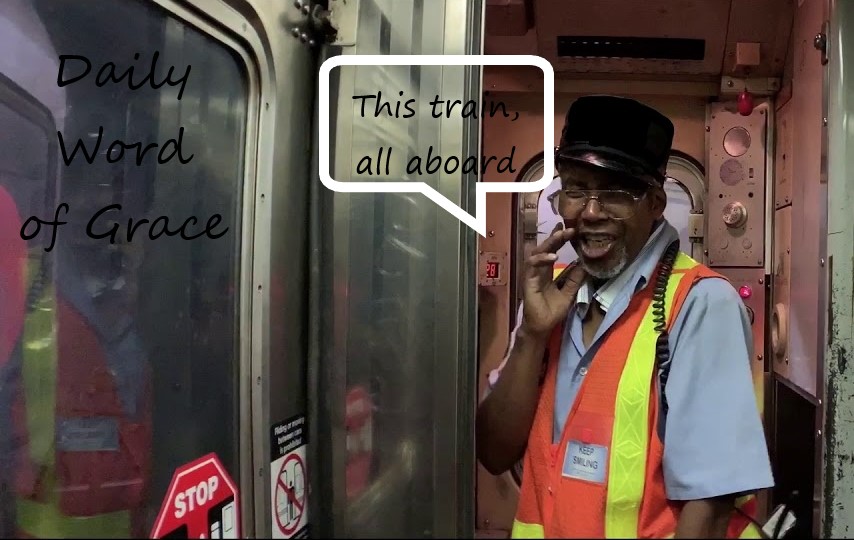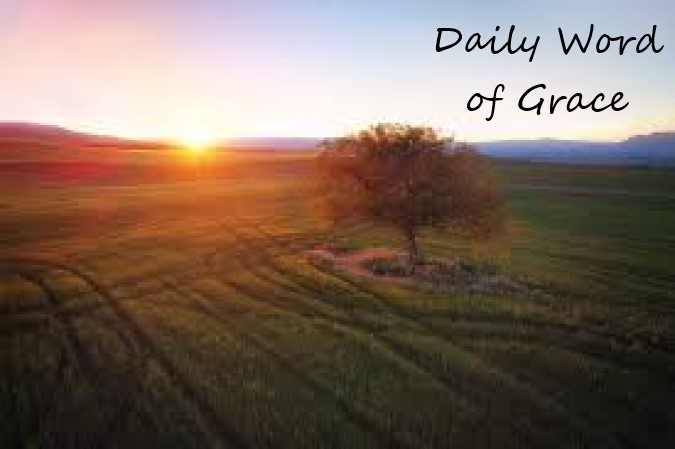 Daily Word of Grace # 143 (October 1, 2020)
In one of the most powerful and honest collects in The Book of Common Prayer we pray, "Almighty God, you alone can bring into order the unruly wills and affections of sinners: Grant your people grace to love what you command and desire what you promise; that among the swift and varied changes of the world, our hearts may surely there be fixed where true joys are to be found" (219).  This collect makes some people uncomfortable, especially those who are convinced they can "bring into order (their) unruly wills and affections" on their own, without God's help.  And yet biblically, this collect hits the mark, a bullseye in fact.  In his Letter to the Romans the Apostle Paul put it this way, "I do not understand my own actions.  For I do not do what I want, but I do the very thing I hate…I can will what is right, but I cannot do it.  For I do not do the good I want, but the evil I do not want is what I do" (Romans 7:15, 18-19).  Paul then describes this inner battle between spirit and flesh concerning one's will, only to cry out, "Wretched man that I am!  Who will rescue me from this body of death?" and then answer, "Thanks be to God through Jesus Christ our Lord!" (Romans 7:24-25).  How does Jesus recue us?  Through grace, just as we pray in the collect, "Grant your people grace to love what you command and desire what you promise."  Thankfully, God's grace is always available to help us with our "unruly wills and affections."
Love and Prayers,
Dave