Daily Word of Grace # 142 (September 30, 2020)
Many years ago when I was a youth minister I led a group of high school students on an ascent of Pike's Peak near Colorado Springs.  Pike's Peak is one of the more famous "fourteener's" (mountains with a summit of at least fourteen thousand feet) in the Colorado Rocky Mountains.  It was a magnificent breathtakingly beautiful July day.  But as we were climbing above tree line a sudden hail storm seemed to come out of nowhere, and since we were above tree line, there were no trees under which to take cover.  We held our backpacks above our heads, the hailstones bouncing off of them and finally found a huge rock under which we took shelter for the duration of the hail storm.  We were SO thankful for that rock.  Along these lines the psalmist effusively writes, "The Lord is my rock, my fortress, and my deliverer, my God, my rock in whom I take refuge, my shield, and the horn of my salvation, my stronghold.  I call upon the Lord, who is worthy to be praised, so I shall be saved from my enemies" (Psalm 18:2-3).  No matter how much we may be caught off guard by metaphorical hailstorms in our lives, God remains our Rock in Whom to take refuge.  And when it comes to the cross, where Jesus saved and delivered us from sin and death, we are never above tree line.
Love and Prayers,
Dave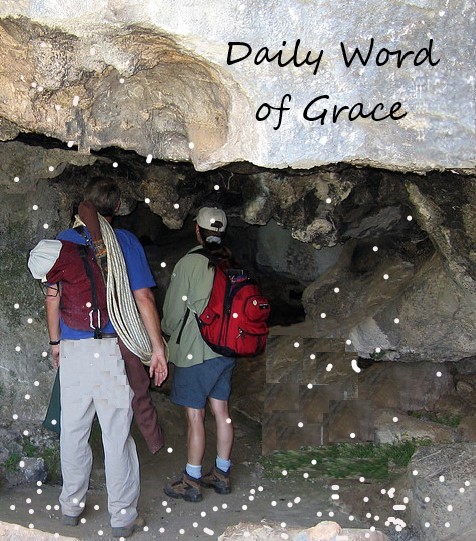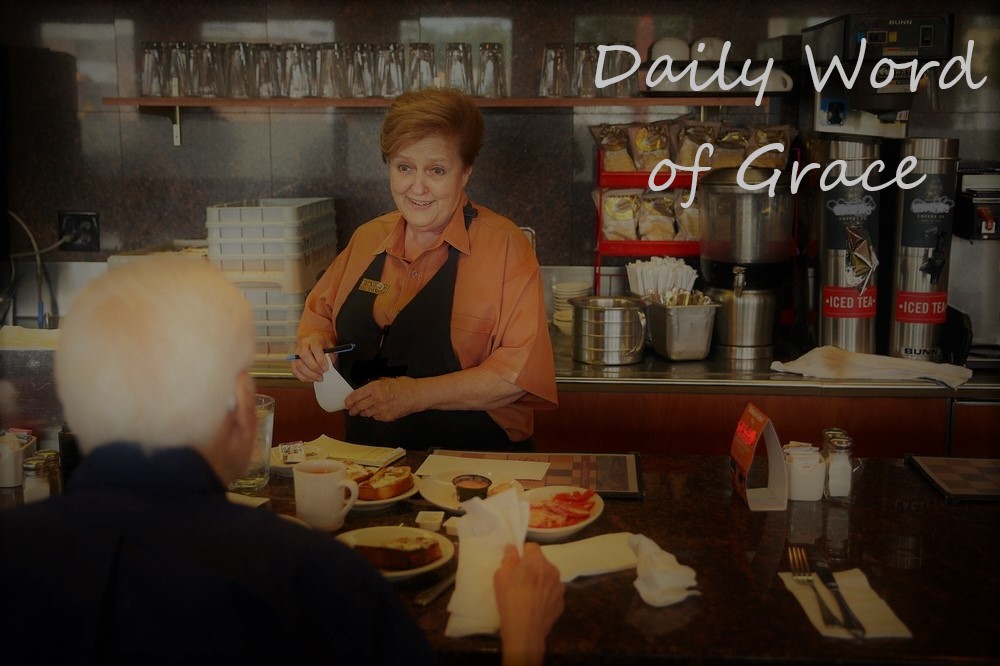 Daily Word of Grace # 141 (September 29, 2020)
Most of the song titles on Pearl Jam's 1991 epic debut album Ten were, like the title of the album, a single word—i.e., "Once," "Alive," "Jeremy," etc.—and this became a bit of a joke.  In response, on their sophomore 1993 album Vs. they included a song entitled, "Elderly Woman Behind the Counter in a Small Town."  It is moving song about an someone coming to grips with her mortality: "I seem to recognize your face, haunting, familiar yet I can't seem to place it, cannot find the candle of thought to light your name.  Lifetimes are catching up with me.  All these changes taking place.  I wish I'd seen the place, but no one's ever taken me.  Hearts and thoughts they fade, fade away."  And yet at the end of the song the elderly lady actually recognizes the one speaking to her: "My God it's been so long, never dreamed you'd return, but now here you are and here I am."  Like that elderly lady, every one of us has to come to grips with our mortality, complete with its accompanying sense of "lifetimes are catching up with me" and "all these changes taking place."  And yet, God meets us right there, as we stand disoriented behind the counter, with a demeanor that also has a one-word title: "Love."  And because of God's love, just like that elderly lady, we too will one day recognize God's face (1 Corinthians 13:12) in the fullness of God's presence—"now here you are and here I am"—in a place where hearts and thoughts never fade away.
Love and Prayers,
Dave
Daily Word of Grace # 140 (September 28, 2020)
In Jane Austen's masterpiece, Pride and Prejudice (1813) Elizabeth Bennett shares with her sister Jane her honest opinion of human nature: "There are few people whom I really love, and still fewer of whom I think well.  The more I see of the world, the more am I dissatisfied with it; and every day confirms my belief of the inconsistency of all human characters, and of the little dependence that can be placed on the appearance of merit or sense."  Perhaps you can relate to Elizabeth Bennett.  I think she is absolutely right in her observation of the "inconsistency of all human characters, and of the little dependence that can be placed on the appearance of merit or sense."  But while this may be true of human beings, it is the exact opposite with God.  God's love is consistent all the time, no matter what, even in the midst of—especially in the midst of—all the inconsistencies in our lives.  Moreover, we can place not just a "little dependence" but our entire dependence upon God's unconditional, faithful, and yes, consistent love demonstrated definitively in the death of Jesus Christ on the cross.  Biblically, it is faith—dependence on the merit of who Jesus is and what Jesus did rather than our own inconsistencies—by which we are saved (Ephesians 2:8).  Moreover, even now, God's consistent love for you means God really loves you and thinks well of you.
Love and Prayers,
Dave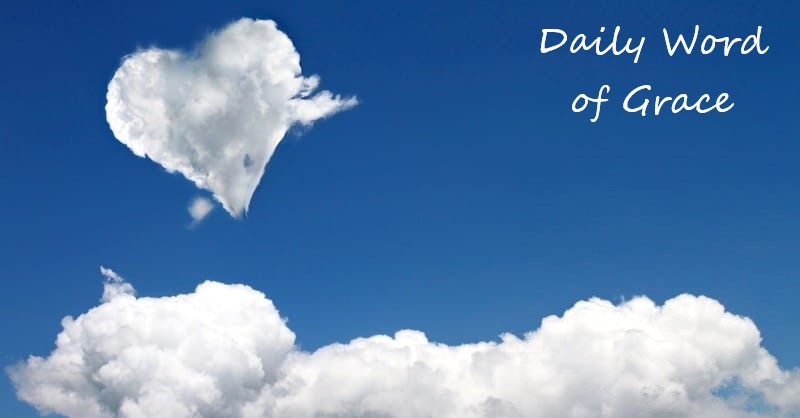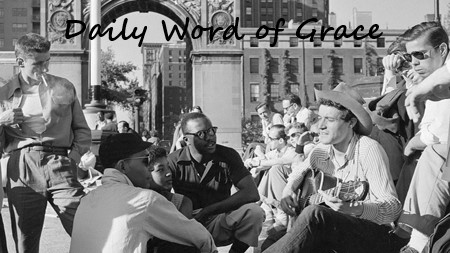 Daily Word of Grace # 139 (September 25, 2020)
In her 2008 memoir A Freewheelin' Time Suze Rotolo (the lady walking arm in arm with Bob Dylan on the iconic album cover of his classic 1963 album, The Freewheelin' Bob Dylan) recounts her fascinating experiences in Greenwich Village during the 1960's.  During the 50's and 60's Greenwich Village was the epicenter of avant-garde artistic creativity, where geniuses like Edna St. Vincent Millay, e. e. cummings, Allen Ginsburg, and yes, Bob Dylan, produced some of their greatest works.  Near the conclusion of her book she observes, "Greenwich Village became a destination because of its bohemian history, which encompassed…revolutionary art, music, poetry, and prose.  It was a community of people and ideas that soldered and welded itself together into odd structures pointing every which way yet maintaining a solid base with common beliefs in the validity of the voices of the outsider and the underdog" (363).  Sounds a little like the church to me, centered on the "common beliefs" of God's unconditional love for the world demonstrated definitively in the death and resurrection of Jesus Christ.  Throughout his earthly ministry Jesus continually listened to "the voices of the outsider and the underdog", including the ostracized woman at the well (John 4), the despised and diminutive tax collector Zacchaeus (Luke 19), lepers (Mark 1), on and on.  And today the Risen Jesus still has a special place in his heart for outsiders and underdogs.
Love and Prayers,
Dave
Daily Word of Grace # 138 (September 24, 2020)
In her 2011 autobiography Sweet Judy Blue Eyes Judy Collins (who was the subject of the Crosby, Stills, and Nash 1969 classic "Suite: Judy Blue Eyes", hence the play on words in the book title) vulnerably wrote about the struggles in her parents' marriage, including the rampant drunken infidelity of her father who confided with her repeatedly in an effort to "create a wall between my mother and myself."  While this worked initially, the steadfast love of Judy's mom eventually won the day.  Not only were Judy and her mom able to have a close loving relationship, but as she writes, "In spite of it all, her love for him never wavered.  Marjorie Lorraine Byrd was a smitten with my father as she had been the day they met.  She was never unfaithful over all those years.  And she forgave him everything" (33).  The Old Testament prophet Hosea compared God's faithful love for Israel in spite of their rampant idolatry to the faithful love of someone, who like Judy Collins' mom, faithfully loved in spite of infidelity: "And I will take you for my wife forever; I will take you for my wife in righteousness and in justice, in steadfast love, and in mercy.  I will take you for my wife in faithfulness; and you shall know the Lord" (Hosea 2:19-20).  The good news of the gospel is that God's love for you is faithful, no matter what.  And in the same Judy's mom "forgave him everything" God "forgives all your iniquity" (Psalm 103:3) so that indeed God's love wins the day.
Love and Prayers,
Dave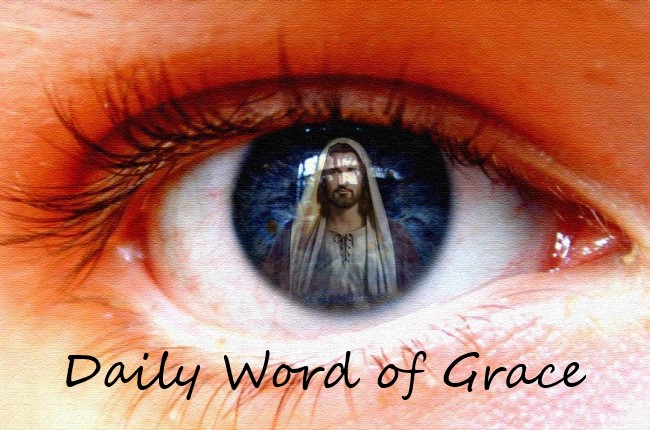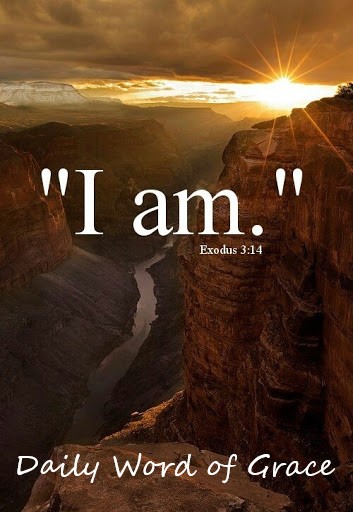 Daily Word of Grace # 137 (September 23, 2020)
One of the best known passages of the Old Testament is God's calling to Moses from the burning bush and commissioning him to lead the exodus of the Israelites from four centuries of bondage in Egypt (Exodus 3:1-12).  When Moses asked God, "If I come to the Israelites and say to them, 'The God of your ancestors has sent me to you,' and they ask me, 'What is his name?' what shall I say to them?" God responded, "I AM WHO I AM…Thus you shall say to the Israelites, 'I AM has sent me to you'" (Exodus 3:13-14).  And by the power of God Moses did just that.  This foreshadowed God sending Someone Else to lead an exodus not just for the Israelites in Egypt after four centuries of bondage, but for the whole world from bondage to sin and death for all time.  This Someone Else is Jesus Christ.  John's account of the gospel includes Jesus' "I am" sayings like "I am the bread of life" (John 6:35), "I am the light of the world" (John 8:12), "I am the good shepherd" (John 10:11), "I am the resurrection and the life" (John 11:25), and "I am the way, and the truth, and the life" (John 14:6).  Each of these "I am's" is a translation of the Greek phrase ego eimi—literally translated "I AM WHO I AM."  Thus, the same One who called to Moses out of the burning bush later died for the sins of the world and was raised from the dead…and calls out to you today.
Love and Prayers,
Dave
Daily Word of Grace # 136 (September 22, 2020)
In our day in which most people have a cell phone and can record things that actually happen, we are reminded of the power of being an eyewitness and ear-witness.  It is hard to deny what you actually see and hear for yourself.  This is one of the things that made the ministry of apostles like Peter, James, and John so powerful.  When it came to the identity and ministry of Jesus Christ, the Son of God, they were eyewitnesses and ear-witnesses who actually saw and heard for themselves, and therefore would not and could not deny the reality of God's love.  Late in his life John put it this way at the beginning of his first letter, "We declare to you what was from the beginning, what we have heard, what we have seen with our eyes, what we have looked at and touched with our hands, concerning the word of life—this life was revealed, and we have seen it and testify to it, and declare to you the eternal life that was with the Father and was revealed to us—we declare to you what we have seen and heard so that you also may have fellowship with us; and truly our fellowship is with the Father and with his Son Jesus Christ" (1 John 1:1-3).  In fact, John was at the foot of the cross.  John saw the blood run down Jesus' sacred face.  John heard Jesus gasp his final breaths.  John was both an eyewitness and ear-witness of the ultimate proof of God's love for the world, a love that is as real for you at this moment as it was then, and will be forever.
Love and Prayers,
Dave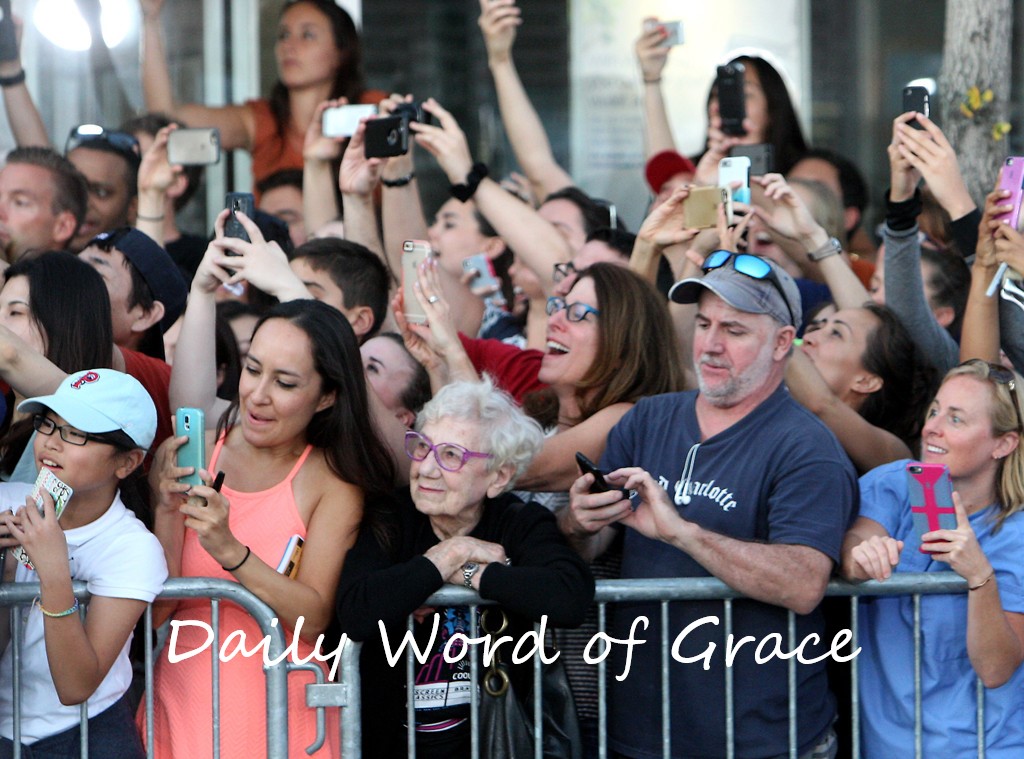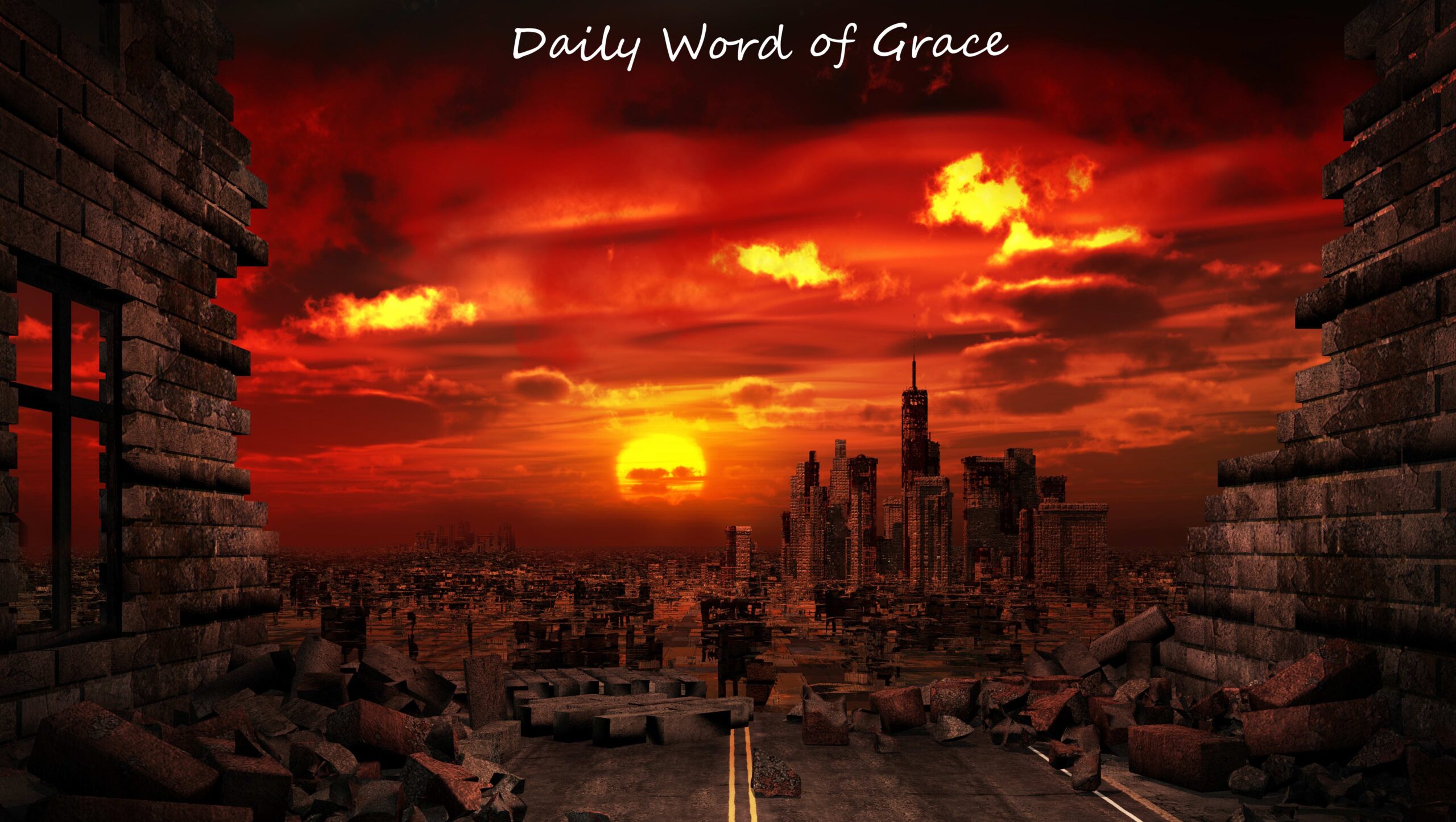 Daily Word of Grace # 135 (September 21, 2020)
In Cormac McCarthy's bleak but powerful Pulitzer Prize winning 2006 novel The Road a man and his son are journeying down "the road" toward the coast in a post-apocalyptic wasteland.  At one point the man says to his son, "Just remember that the things you put into your head are there forever.  You might want to think about that."  His son asks, "You forget some things, don't you?" to which his father replies, "Yes.  You forget what you want to remember and you remember what you want to forget" (12).  As each of us travels down the road of life—sometimes through lush and vibrant beauty, other times like the man and his son through a seeming post-apocalyptic wasteland—we put innumerable things into our heads (or others do the favor for us).  And yes, in many ways we often forget what we want to remember and remember what we want to forget.  But there are at least two things Jesus wants us always to remember: first, that he loves us so much he died for us, which is why at the Last Supper he instituted Holy Communion and commanded that when we partake, we do so "in remembrance of me" (Luke 22:19)—and second, that he is always with us, as he assured his disciples at the Great Commission, "Remember, I am with you always, to the end of the age" (Matthew 28:20).  Thankfully, those are two things we actually want (and need) in our heads forever.
Love and Prayers,
Dave
Daily Word of Grace # 134 (September 18, 2020)
As a kid in the 70's I grew up with the radio on pretty much all the time.  In 1976 Boston released their landmark eponymous debut album, an album that single handedly turned me on to the joy of rock 'n roll, a joy I have never gotten over, and probably never will.  In addition to "More Than a Feeling", a wistful power ballad about a lost love named Maryann (and one of THE best songs of the decade), this album has a song called "Peace of Mind" in which the late Brad Delp sings, "Now if you're feeling kinda low about the dues you've been paying, future's coming much too slow.  And you want to run but somehow you just keep on staying, can't decide on which way to go.  I understand about indecision but I don't care if I get behind.  People living in competition.  All I want is to have my peace of mind."  That longing for peace of mind is something all of us have, some more than others.  In his Letter to the Philippians, which he wrote while imprisoned in Rome, Paul addressed this very longing, "Do not worry about anything, but in everything by prayer and supplication with thanksgiving let your requests be made known to God.  And the peace of God, which surpasses all understanding, will guard your hearts and your minds in Christ Jesus" (Philippian 4:6-7).  Maybe you never knew that classic rock songs of the 70's intersected with the Pauline epistles of the New Testament, but indeed, thankfully, they do.
Love and Prayers,
Dave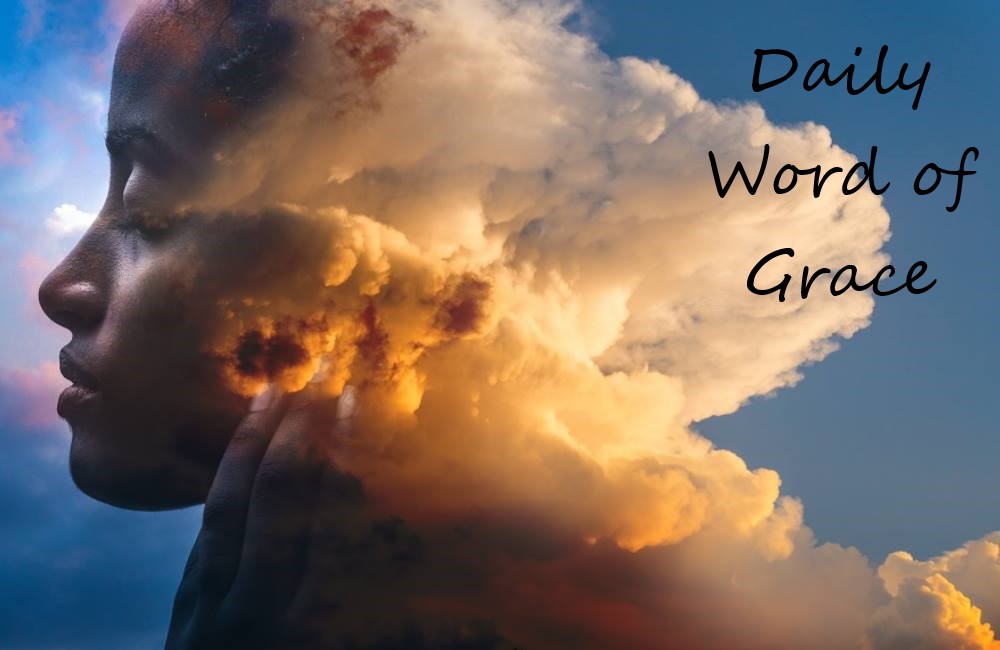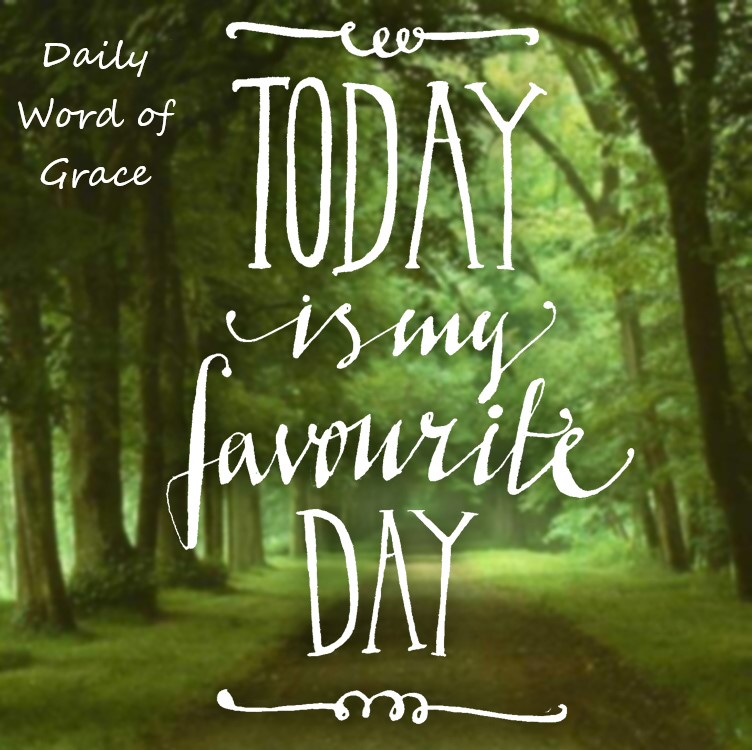 Daily Word of Grace # 133 (September 17, 2020)
In the Academy Award winning 2012 film Silver Linings Playbook Bradley Cooper plays Pat Solitano, Jr., whose marriage has fallen apart and who has just been released from a mental health facility following his breakdown.  Pat always loved Sunday's especially in the fall, during football season when he and his family would watch their beloved Philadelphia Eagles.  But the pain of his divorce and breakdown had soured his view of Sunday's.  But over the course of the film Pat experiences much healing and redemption, complete with a second chance, especially through his relationship with Tiffany Maxwell (played by Jennifer Lawrence).  By the end of the film he says in a voiceover: "The world will break your heart ten ways to Sunday, that's guaranteed, and I can't begin to explain that, or the craziness inside myself and everybody else, but guess what?  Sunday is my favorite day again.  I think of everything everyone did for me and feel like a very lucky guy."  Pat is right—indeed "The world will break your heart ten ways to Sunday, that's guaranteed"…but there is something else that's also guaranteed, the unconditional love of God in Jesus Christ, whose death on the cross is definitive proof of that love (Romans 5:8) and whose love "heals the brokenhearted" (Psalm 147:3) and can make Sunday—or any day of the week—your favorite day again.
Love and Prayers,
Dave
Daily Word of Grace # 132 (September 16, 2020)
When I was a kid growing up in Northern Virginia our neighbors across the street had a huge steep hill in their backyard.  It was perfect in the winter for sledding, and perfect year round for one of our favorite neighborhood games, "King of the Mountain."  The object of this violent game was simple, to remove everyone else from the top of the "mountain" so that you alone remained and thus became "King of the Mountain."  There were various types of "removing": pushing, pulling, dragging, tackling, tripping, whatever it took.  Although we loved this game, we all quickly learned that every "reign" of the "King of the Mountain" was only momentary, because the very ones you "removed" in order to become "King of the Mountain" would inevitably return the favor.  Moreover, eventually everyone in this game would be bruised.  Unfortunately we live in a "King of the Mountain" world from cradle to grave as in nearly every human endeavor or institution there is a ceaseless scramble to become "King of the Mountain," leaving most people bruised—externally, internally, or both.  Jesus Christ was, and is, a different kind of king, the King of Grace, who in his passion and death was "bruised for our iniquities" (Isaiah 53:5, KJV), and who died on a different mountain, Calvary.  And even now the Risen Jesus is the "King of kings and Lord of lords" (Revelation 19:16), the real King of the Mountain, whose gracious reign will last throughout eternity.
Love and Prayers,
Dave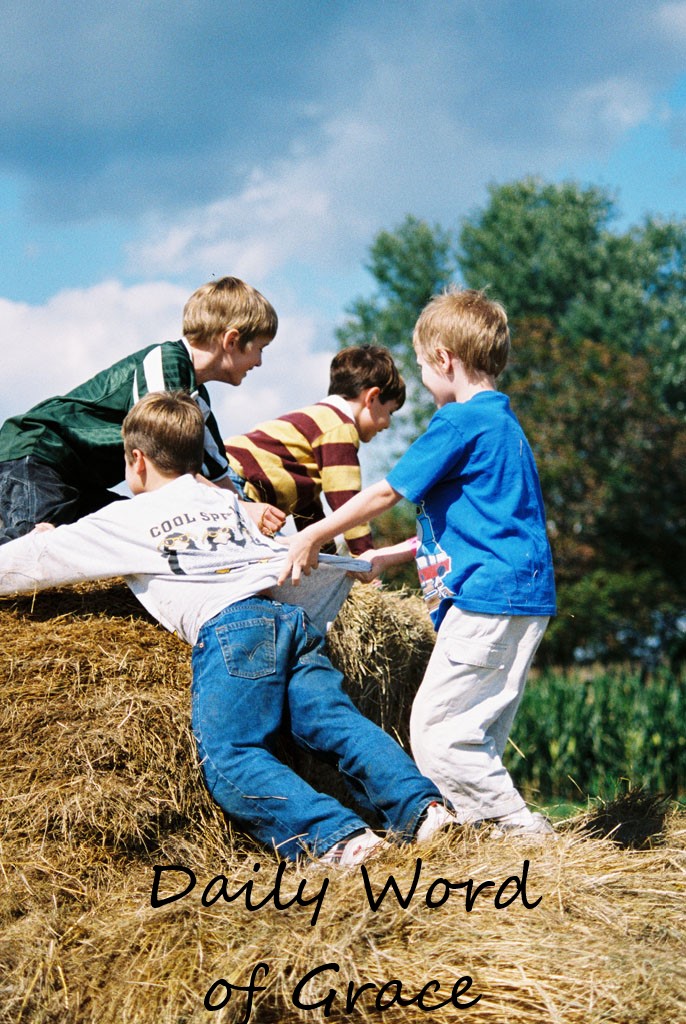 Daily Word of Grace # 131 (September 15, 2020)
Many years ago I heard a "preacher story" that may or not be true, but it stuck with me…a hitchhiker burdened with an overloaded backpack was trudging down the road with his thumb out  to hitch a ride.  A kind old man in an equally old pickup truck slowed down and offered a ride in the bed of his truck (his cab already full).  The hitchhiker gratefully lugged his pack and climbed into the bed of the old truck.  But as they were going down the road the driver noticed in his rearview mirror that the hitchhiker was squatted down, still straining from the weight of his overloaded backpack.  When they stopped at the next town the driver asked him, "Why do you still have your backpack on?  Why not put it down in the truck?" to which the hitchhiker replied, "I'm just trying to do my part."  Many of us are weighed down by backpacks overflowing with various burdens—stress, regret, fatigue, guilt, pressure, expectations, you can fill in the blank.  Jesus gets it, which is why he offers this comforting invitation, "Come to me all you that are weary and are carrying heavy burdens, and I will give you rest.  Take my yoke upon you, and learn from me; for I am gentle and humble in heart, and you will find rest for your souls" (Matthew 11:28-29).  Jesus' invitation stills stands.  He has already taken your part for you…which means you can put your backpack down.
Love and Prayers,
Dave
Daily Word of Grace # 130 (September 14, 2020)
In C. S. Lewis' classic children's book series The Chronicles of Narnia Aslan the lion is the Christ-like figure.  At the end of the seventh and final volume, The Last Battle, Edmund and Lucy, after they and their family perished in an accident, find themselves in heaven.  There they see Aslan, who tells them, "There was a real railway accident…Your father and mother and all of you are…dead."  But then Aslan reassures them, "The term is over: the holidays have begun.  The dream is ended: this is the morning."  Lewis then concludes, "And for us this is the end of all the stories, and we can most truly say that they all lived happily ever after.  But for them it was only the beginning of the real story.  All their life in this world and all their adventures in Narnia had only been the cover and the title page: now at last they were beginning Chapter One of the Great Story which no one on earth has read: which goes on forever: in which every chapter is better than the one before."  Along these lines in his First Letter to the Corinthians the Apostle Paul wrote about "What no eye has seen, nor ear heard, nor the human heart conceived, what God has prepared for those who love him" (1 Corinthians 2:9).  And in heaven, Jesus Christ, the Real Aslan of the Great Story will be there to personally wipe away every tear from your eyes (Revelation 21:4).
Love and Prayers,
Dave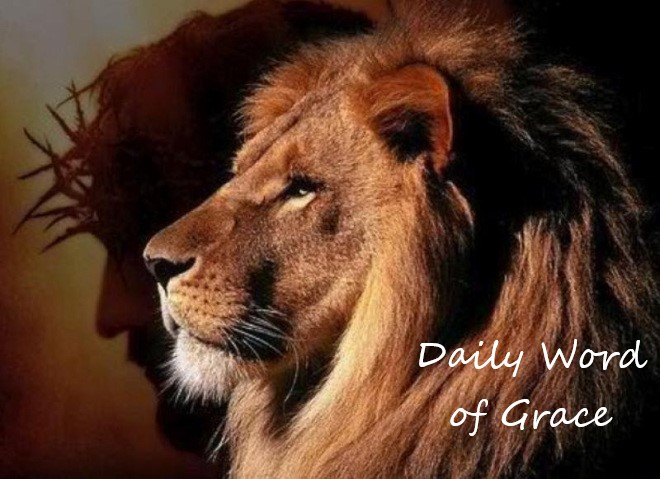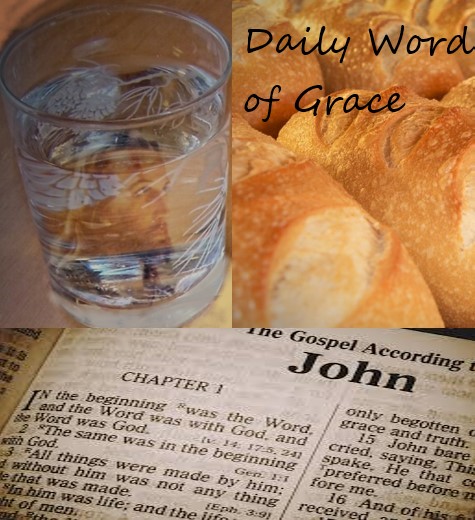 Daily Word of Grace # 129 (September 11, 2020)
One of my heroes is Thomas Cranmer (1489-1556), who was the Archbishop of Canterbury and the leading figure of the English Reformation.  In addition to producing the first two English Prayer Books in 1549 and 1552, he also wrote many of the sermons in the First Book of Homilies (1547), including the first sermon of this volume, "A Fruitful Exhortation to the Reading and Knowledge of Holy Scripture."  Cranmer begins this beautifully written and theologically loaded sermon, "Unto a Christian there can be nothing either more necessary or profitable than the knowledge of holy scripture…as drink is pleasant to them that be dry, and food to them that be hungry, so is the reading, hearing, searching, and studying of holy Scripture to them that be desirous to know God or themselves…let us diligently read holy Scriptures, which is the food of the soul."  The reason knowledge of the scripture is necessary and profitable, drink "to them that be dry" and the "food of the soul" is because scripture points us to our Savior Jesus Christ (John 5:39), who is both the "bread of life" (John 6:35) and the One who gives "living water" (John 4:7-14).  Scripture is the inspired word of God (2 Timothy 3:16) because it points us to the Jesus Christ, the Word of God who has given all of us "grace upon grace" (John 1:1, 16).  And it is this grace of God that assures us that we are fully known by God, fully forgiven by God, fully loved by God.
Love and Prayers,
Dave
Daily Word of Grace # 128 (September 10, 2020)
One of my favorite Motown songs is the 1966 gem by the Four Tops, "Reach Out, I'll Be There."  It is an incredibly catchy song of hope: "Now if you feel that you can't go on because all of your hope is gone.  And your life is filled with much confusion until happiness is just an illusion, and your world around is crumbling down…Darling, reach out, reach out for me.  I'll be there, with a love that will shelter you.  I'll be there, with a love that will see you through."  As a priest I have had countless conversations with people who feel just like that (maybe that includes you right now), who feel like they can't go on, who feel like their hope is gone—people who are confused because the happiness they were convinced they would find in something, or someone, has indeed turned out to be an illusion—people whose world is crumbling down.  And trust me, priests themselves are not immune to this.  And yet, God promises that when you reach out—and even if you do not reach out—God will be with you, as spoken through the Old Testament prophet Jeremiah, "When you search for me, you will find me; if you seek me with all your heart, I will let you find me, says the Lord, and I will restore your fortunes…and I will bring you back" (Jeremiah 29:13-14).  In the end God's love will always shelter you, God's love will always see you through.  And when you reach out to God, not only will you realize God is there, but also that God has already been reaching out…to you.
Love and Prayers,
Dave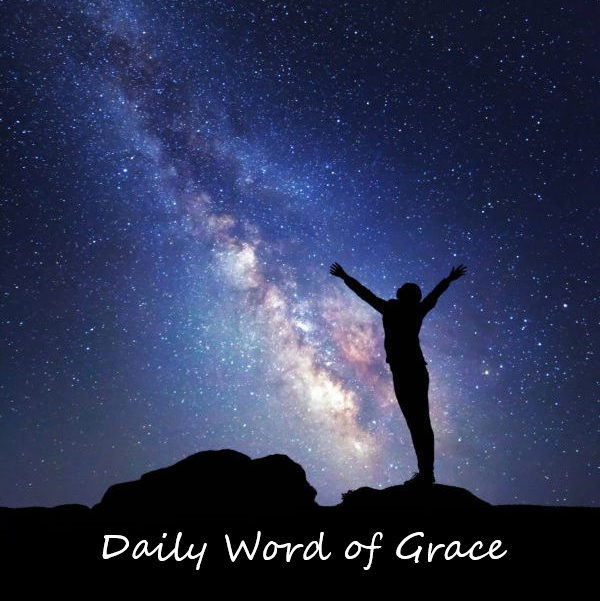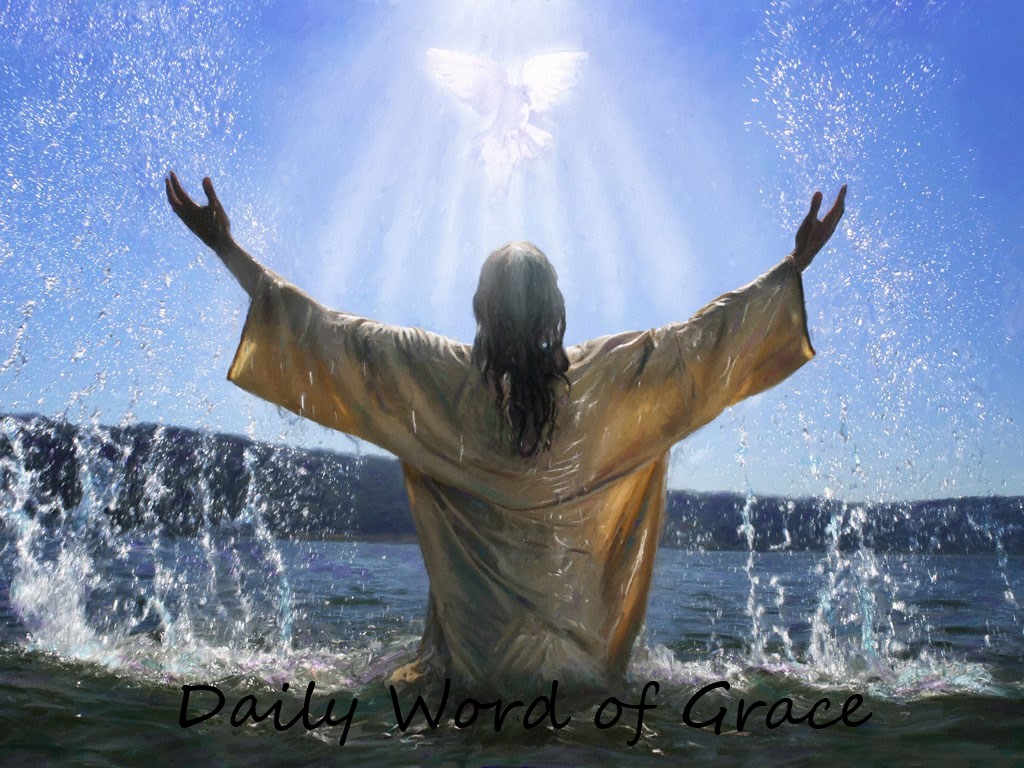 Daily Word of Grace # 127 (September 9, 2020)
Jesus' baptism is often considered the beginning of his earthly ministry.  All three Persons of the Trinity were present and active as Jesus, God the Son, was anointed by the God the Holy Spirit as God the Father proclaimed from heaven, "This is my Son, the Beloved, with whom I am well pleased" (Matthew 3:16-17).  Before Jesus performed a single miracle or cleansed a single leper, before Jesus walked on water or calmed the stormy sea, before Jesus preached a single sermon or healed a single blind person, before Jesus befriended outcasts or forgave notorious sinners, before Jesus did any of those things God the Father proclaimed to the world that Jesus was his beloved son with whom he was well pleased.  And the same Holy Spirit who anointed Jesus that day assures us in our hearts that we too are God's beloved children with whom God is well pleased (Romans 8:14-16; 1 John 3:1) with a love that precedes anything we may do to try to earn that love.  This is because God is love (1 John 4:14), and the ultimate demonstration of God's love occurred on Good Friday: "God's love was revealed among us in this way: God sent his only Son into the world so that we might live through him.  In this is love, not that we loved God but that he loved us and sent his Son to be the atoning sacrifice for our sins" (1 John 4:9-10).  That same love of God is the beginning of your earthly ministry…and the beginning of your eternal life.
Love and Prayers,
Dave
Daily Word of Grace # 126 (September 8, 2020)
In his moving Pulitzer Prize winning 2014 novel All the Light We Cannot See Anthony Doerr writes, "We all come into existence as a single cell, smaller than a speck of dust.  Much smaller.  Divide.  Multiply.  Add and subtract.  Matter changes hands, atoms flow in and out, molecules pivot, proteins stitch together, mitochondria send out their oxidative dictates; we begin as a microscopic electrical swarm.  The lungs the brain the heart.  Forty weeks later, six trillion cells get crushed in the vise of our mother's birth canal and we howl.  Then the world starts in on us."  The psalmist described all this a little differently, praying, "For it was you who formed my inward parts; you knit me together in my mother's womb.  I praise you, for I am fearfully and wonderfully made.  Wonderful are your works; that I know very well.  My frame was not hidden from you, when I was being made in secret, intricately woven in the depths of the earth" (Psalm 139:13-15).  One of the countless wonders of the gospel is that the same One who knit you together became incarnate, beginning with a single cell, and grew in Mary's womb until he was born.  And the same world that "starts in on us" at our birth started in on Jesus that holy night, and never stopped until nailing him to a cross thirty-three years later.  Out of God's unconditional love for this very same world, including you, this same Jesus, your Creator and Redeemer, died to save you—not condemn you, save you (John 3:16-17).  And after your death you will finally see all the light you cannot see, Jesus Christ the Light of the World (John 8:12), Jesus Christ your Creator and Redeemer.
Love and Prayers,
Dave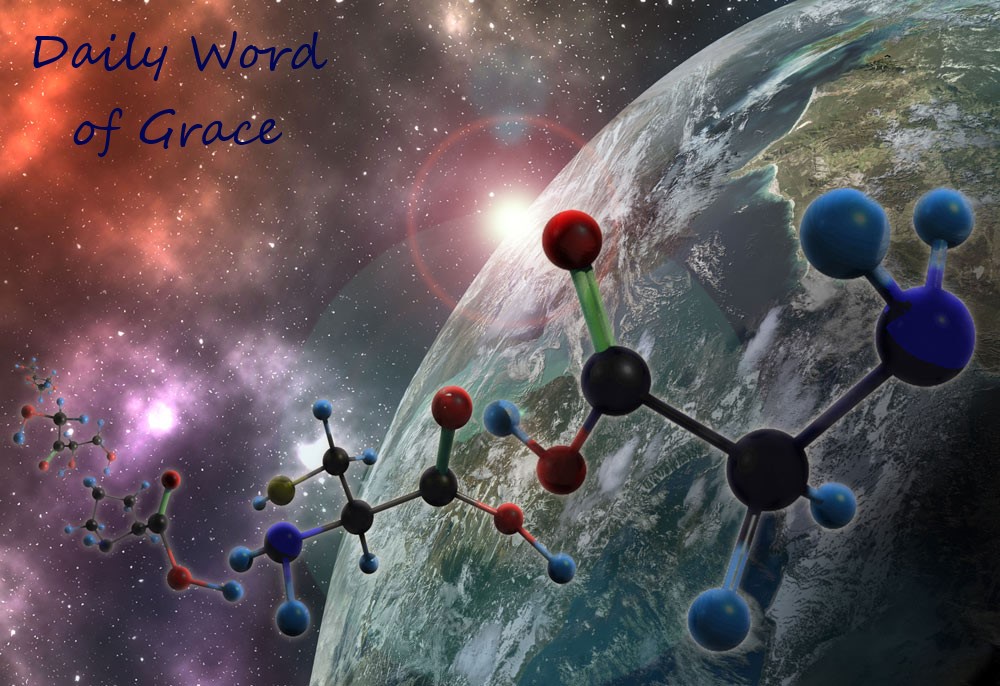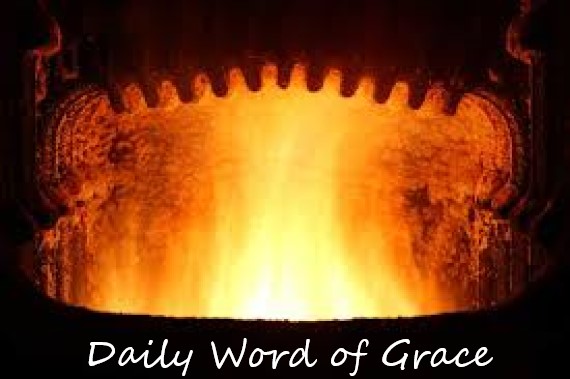 Daily Word of Grace # 125 (September 7, 2020)
The Old Testament book of Daniel includes one of the most famous stories in the Bible.  Among the Israelite exiles taken to Babylon after the Babylonians besieged and razed Jerusalem in  587 B.C. were the prophet Daniel and three of his friends—Shadrach, Meshach, and Abednego.  (While I have met several Daniel's in my life I have yet to meet a Shadrach, Meshach, or Abednego—but I digress…).  King Nebuchadnezzar built a golden statue about 100 feet tall and commanded that whenever people heard certain music play they were to immediately "fall down and worship the golden statue."  Those who refused to do so would "immediately be thrown into a furnace of blazing fire" (Daniel 3:1-6).  Shadrach, Meshach, and Abednego refused, and so were bound with and cast into that fiery furnace.  And yet they were not burned.  Not only that, when King Nebuchadnezzar looked into the fiery furnace he saw four men walking around, the fourth having "the appearance of a god."  When Shadrach, Meshach, and Abednego emerged they were perfectly fine—"not even the smell of fire came from them"—with the only things consumed by the flames were the ropes that had bound them (Daniel 3:23-27).  What is true for them is true for you.  When you find yourself in a crucible (and if you have not yet, you will) you are not alone.  There is always a fourth Person with you who not only has "the appearance of a god" but actually is God.  God will not only bring you safely through that crucible, but will also only allow the things that bind you to be consumed by the flames.
Love and Prayers,
Dave
Daily Word of Grace #124: September 4, 2020
Several years ago I had the privilege of spending a day wandering around Oxford, England.  There is literally an "X" on the spot in the middle of Broad Street where the Oxford Martyrs were burned at the stake.  Bishops Hugh Latimer and Nicholas Ridley were martyred there on October 16, 1555, and months later, Archbishop Thomas Cranmer, who wrote/compiled the first two English Prayer Books, was also martyred there on March 21, 1556.  In Foxe's Book of Martyrs (1563) John Foxe recounted what happened after fire was set below Bishops Latimer and Ridley, who were together bound to the stake: "Master Latimer spake in this manner: 'Be of good comfort , Master Ridley, and play the man.  We shall this day light such a candle, by God's grace, in England, as I trust shall never be put out.'  When Dr. Ridley saw the fire flaming up towards him, he cried with a wonderful loud voice, 'Lord, Lord, receive my spirit.'  Master Latimer, crying as vehemently on the other side, 'O Father of heaven, receive my soul!' receive the flame as it were embracing of it."  Bishop Latimer was exactly right, for indeed by God's grace the light of the gospel of the unconditional love of God in Jesus Christ has never been put out, and never will be—for truly "The light shines in the darkness, and the darkness did not overcome it" (John 1:5).
Love and Prayers,
Dave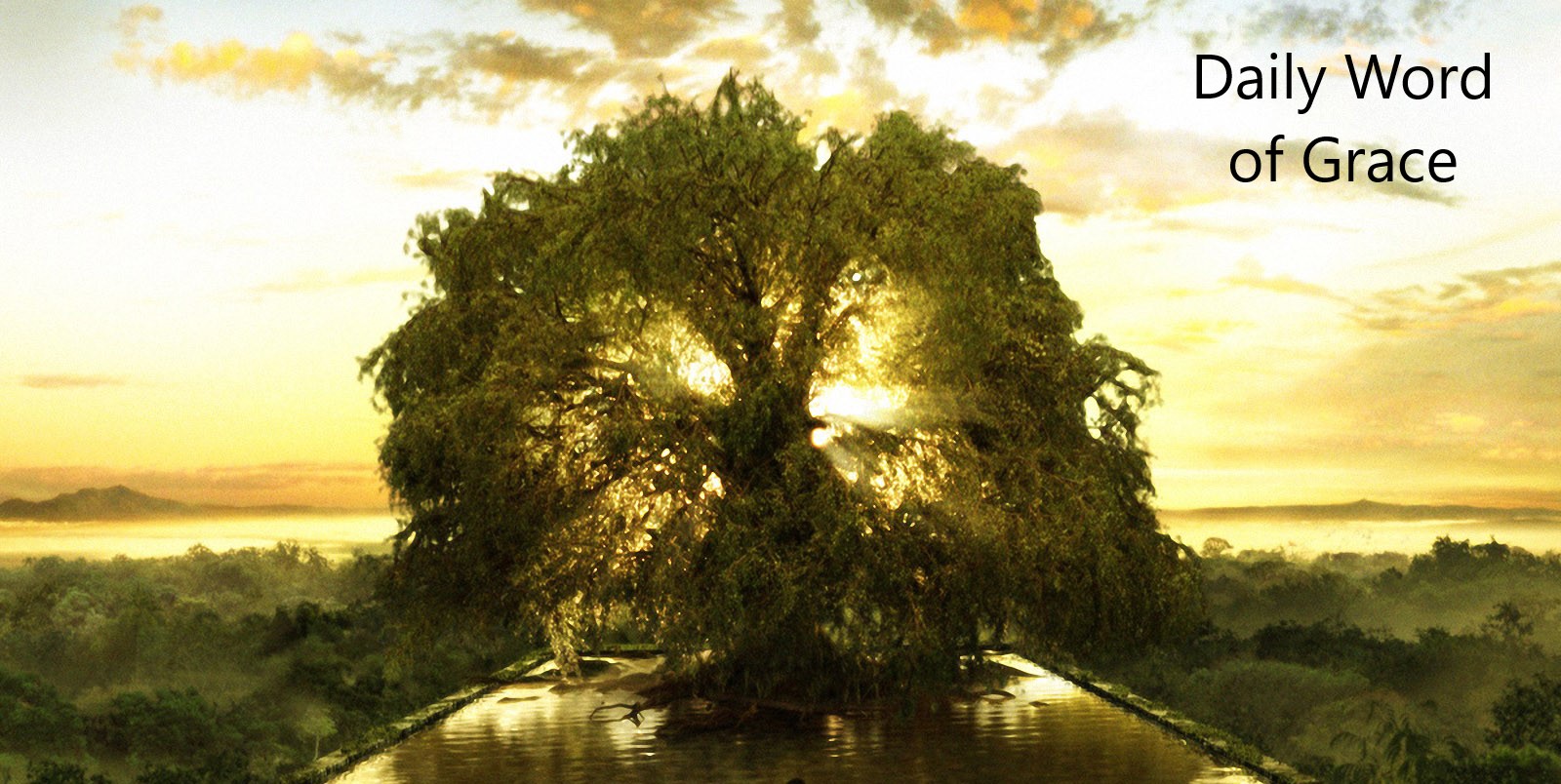 Daily Word of Grace # 123 (September 3, 2020)
My favorite science fiction writer is the prolific Ray Bradbury (1920-2012).  The title of his 1953 dystopian classic, Fahrenheit 451 refers to the temperature at which book paper catches fire and burns.  The protagonist is Guy Montag, a "fireman" whose job is to burn books, which have been outlawed.  His helmet bears "451" to signify his role.  The novel is a warning about the danger of jettisoning books, and is a relevant now as ever as many have swapped reading books with scanning news feeds and social media.  Montag eventually quits his "fireman" job and joins a group of refugee intellectuals, each of whom have memorized books in an effort to keep the life-giving truths of books from becoming extinct.  Montag had memorized parts of the Bible, and at the end of Fahrenheit 451 he is walking silently with these new friends and recalls this passage from Revelation: "And on either side of the river was there a tree of life, which bare twelve manner of fruits, and yielded her fruit every month; and the leaves of the tree were for the healing of the nations" (Revelation 22:2, KJV).  The Bible is indeed the inspired word of God (2 Timothy 3:16) that points us to salvation through Jesus Christ whose death on the cross, the "tree of life", remains the proof of God's love for us (Romans 5:8).
Love and Prayers,
Dave
Daily Word of Grace #122: September 2, 2020
In his final book, All is Grace (2011) the late preacher and writer Brennan Manning, whose ministry has greatly encouraged me over many years, wrote, "If I've learned anything about the world of grace, it's that failure is always a chance for a do-over" (162).  Although other people may or may not give you grace—may or may not give you "a chance for a do-over"—God always does.  God is a God of mercy, a God of forgiveness, a God of grace.  God is a God of second chances…and third chances, and fourth chances, and…you see where this is going.  Ask King David, who was given a second chance from God after a combination of adultery and murder (2 Samuel 12:13).  Ask Mary Magdalene, out of whom Jesus had cast seven demons (Luke 8:1-2) and who was later not only at the foot of cross during Jesus' crucifixion (Matthew 27:55-56) but also the first person to see Jesus after his resurrection (John 20:11-18).  Ask Peter, who was given a second chance from God after denying Jesus not just once but three times (John 21:15-19).  You can also ask millions of Christians who over the centuries have experienced the reality that God is a God of grace, a God of second chances.  In whatever areas of your life you have failed (or are failing), God remains faithful and each failure is indeed "always a chance for a do-over."
Love and Prayers,
Dave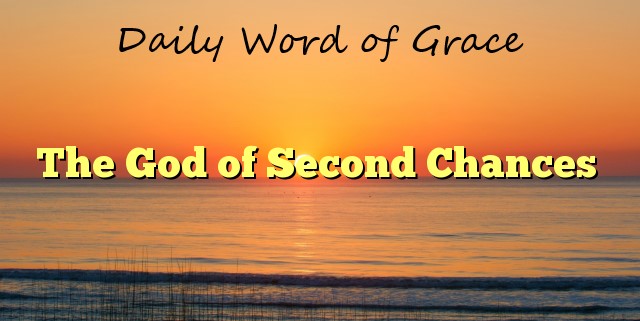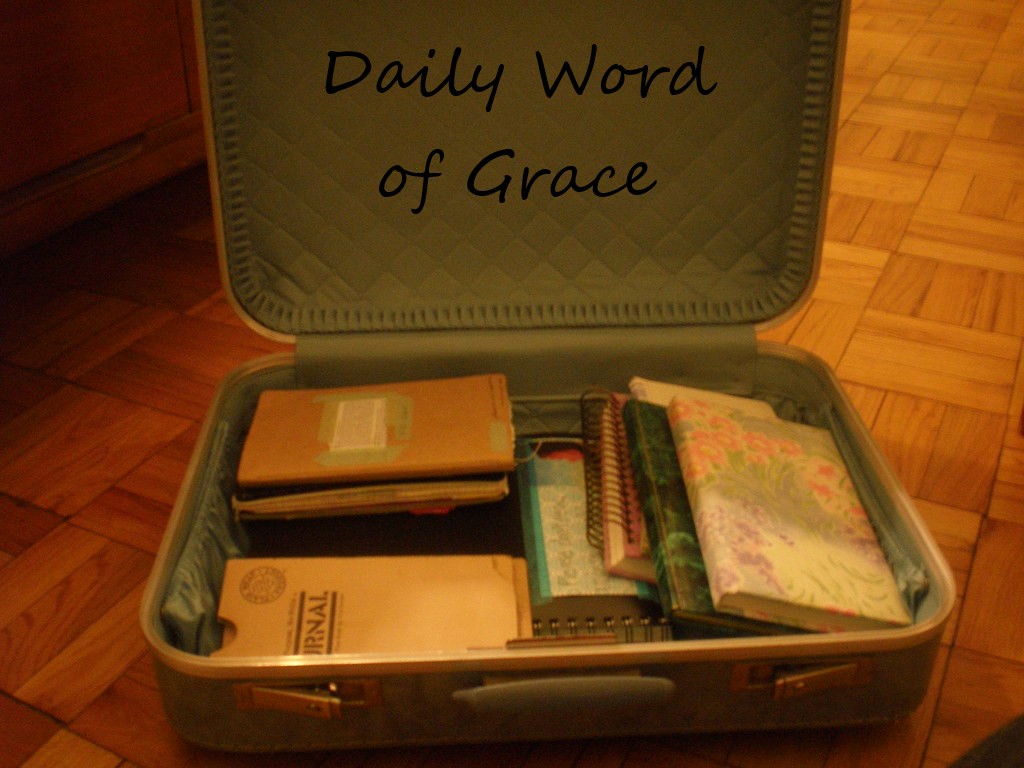 Daily Word of Grace # 121 (September 1, 2020)
When I was in high school Cyndi Lauper had one of her biggest hits, a beautiful reassuring ballad called "Time after Time" which she wrote in the midst of a very difficult personal relationship (who cannot relate to that?).  She sings: "Lying in my bed, I hear the clock tick and think of you.  Caught up in circles, confusion is nothing new.  Flashback, warm nights almost left behind.  Suitcase of memories…If you're lost you can look and you will find me time after time.  If you fall I will catch you, I'll be waiting time after time."  When you're lying in bed and hearing the clock who do you think of?  Are you ever confused and "caught up in circles"?  What's in your "suitcase of memories"?  Do you ever feel lost or like you're falling?  The good news of the gospel is that you are fully known and fully loved by God, who sympathizes with your weaknesses (Hebrews 4:15).  Not only does God understand and empathize with everything in your "suitcase of memories" and everything that has you confused and "caught up in circles," God seeks you out when you are lost (Luke 19:10) and promises to catch you when you fall (Psalm 37:24).  Eventually God's love will win the day in your life no matter what , always and forever, "time after time."
Love and Prayers,
Dave