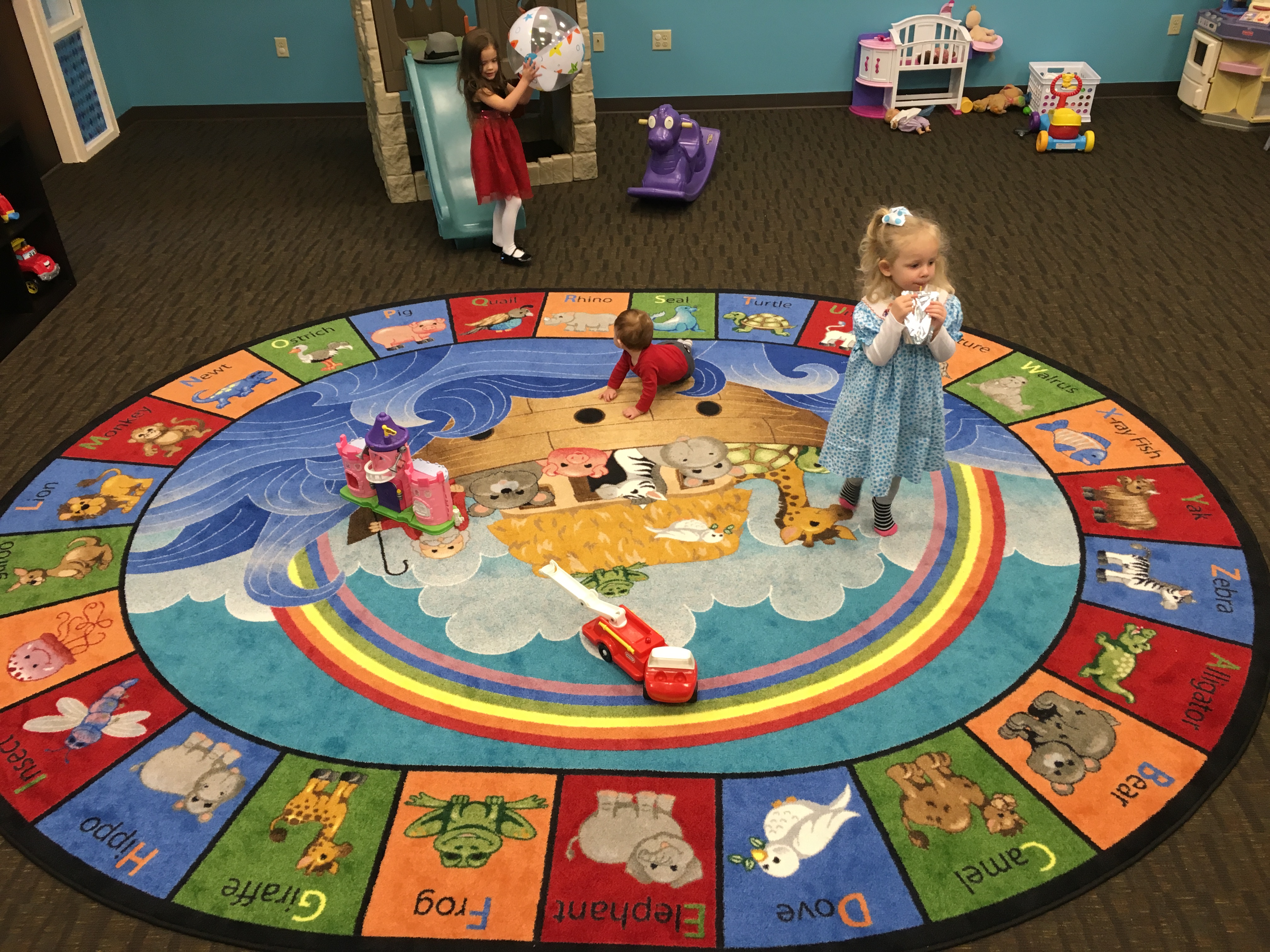 The Christ Church nursery has grown into a new space.  The former multipurpose room for adults has been remodeled into a warm and welcoming room for our youngest members.
Averaging 12 children per Sunday, the former two rooms were too crowded. In addition, our Parent's Morning Out has become a popular service that is drawing new people to our parish and there was a need to offer a less crowded, dedicated space for it.
Stefani Carroll and Stephanie Johnson came first with paints and rollers to transform beige walls to cheery bright turquoise. Emily Young, our Parent's Morning Out Coordinator, created a matching lamb banner.  Some funds from the Gabard Memorial paid for a large colorful carpet circle, some cube organizers, and two comfortable overstuffed rocking chairs.
Emily Young's mother, Gloria Keys, created a musical mural for one wall. Using a new Cricut programmable die cut machine Stefani has put words and sayings up on the walls.
---
---
In a matter of a few weeks, the first phase of the new nursery was in place. Still to come is more painting for the hall way that connects to the former nursery rooms that have now been converted to space for infants only. Those rooms will also get a new coat of paint.  In addition, developmental tools like Sensory Boards are being ordered for the main nursery along with Magnetic Bulletin board for announcements and seasonal decorations.
Our nursery is currently staffed by Katie Gamble and Jessica Bunting along with overflow help from some of our High School girls.  We are looking for a third person to fill out the team.
Parents Morning Out is available Monday through Friday from 9:00 a.m. until 12:00 noon. The program also offers a daily "Lunch Bunch" extension from 12 noon until 1 p.m. For additional information, please contact the church office at 229-242-5115.